I picked up a few packets of Duck Breast Fillets from Silver Hill Farm while at Bloom recently. They sounded really tasty and I do love duck, it's one of my favourite meats actually. I honestly hadn't heard of them before but Pauline not only had, she knew Barry at the stand so they caught up.
Pauline was previously in marketing for Superquinn/Supervalu after all. Silver Hill has been around for about 50 years ago and is found all over the world.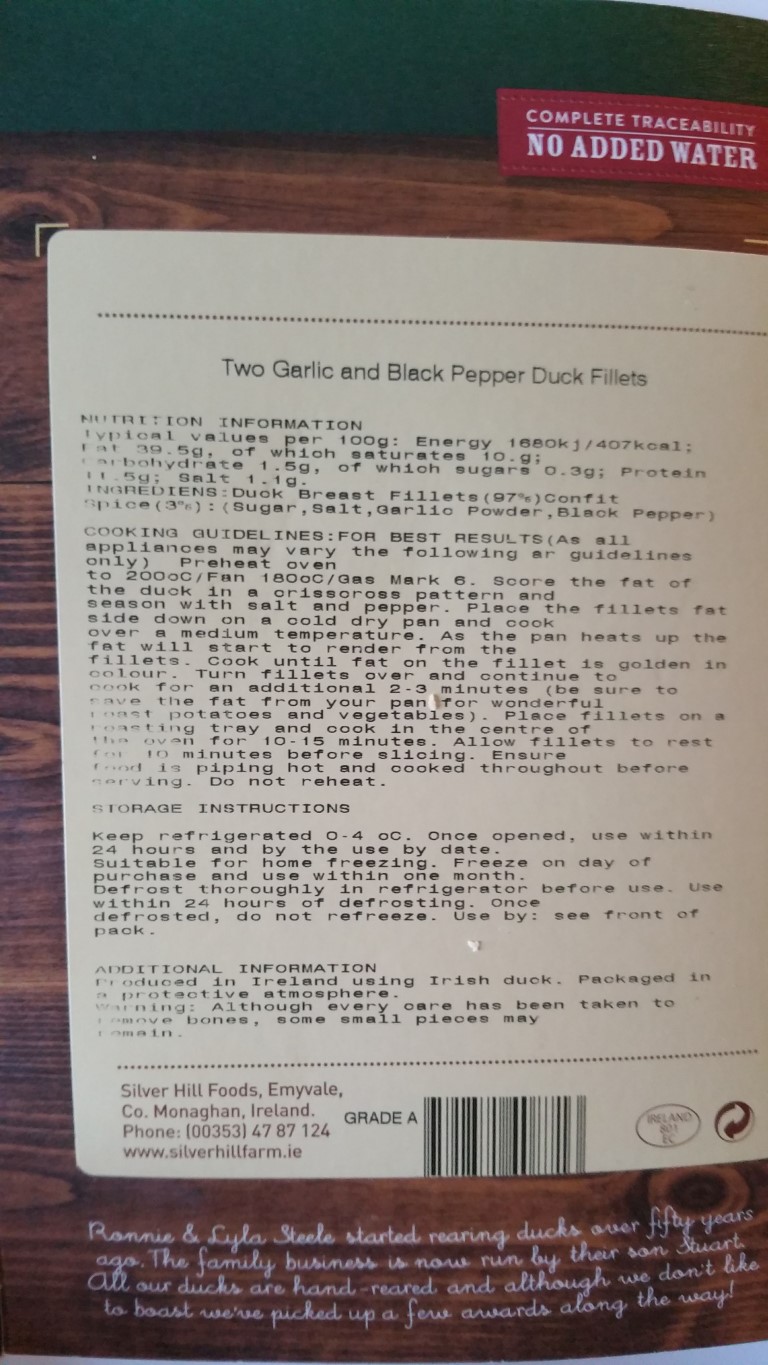 When it came time to cook them, I read the back of the pack for guidelines. I have only ever roasted whole duck before so I was curious to see what cooking fillets was like. It's a little different but the instructions were almost spot on as I found out. So you don't have to rely on the image above, here's what it says more or less. I used the garlic and black pepper fillets here.
Remove all packaging – Obviously
Preheat the oven to 200°C/Fan 180ºC/Gas mark 6. – Easy enough
Score the fat, this is already done so ignore this part.
Season with salt and pepper, these were pre-seasoned so I could ignore that part.
Place fillets fat side down on a cold dry pan and turn to a medium heat. As the pan heats up the fat will start to render from the fillets. – OK interesting
Cook until fat is golden in color (time will depend on the speed of your hob) Turn fillets over and continue to cook for a further 2 to 3 minutes (be sure to save the fat from your pan for wonderful roast potatoes and vegetables) – I had mushrooms so kept for that.
Place fillets on a roasting tray and cook for a further 10 – 15 minutes depending on oven and taste.
Remove from oven and allow fillets to rest for 10 minutes before slicing.
Ensure that the duck is thoroughly cooked, no pink meat remains and the juices run clear – Probably to be safe. A little pink for duck is usually fine. That's how it's served in restaurants after all.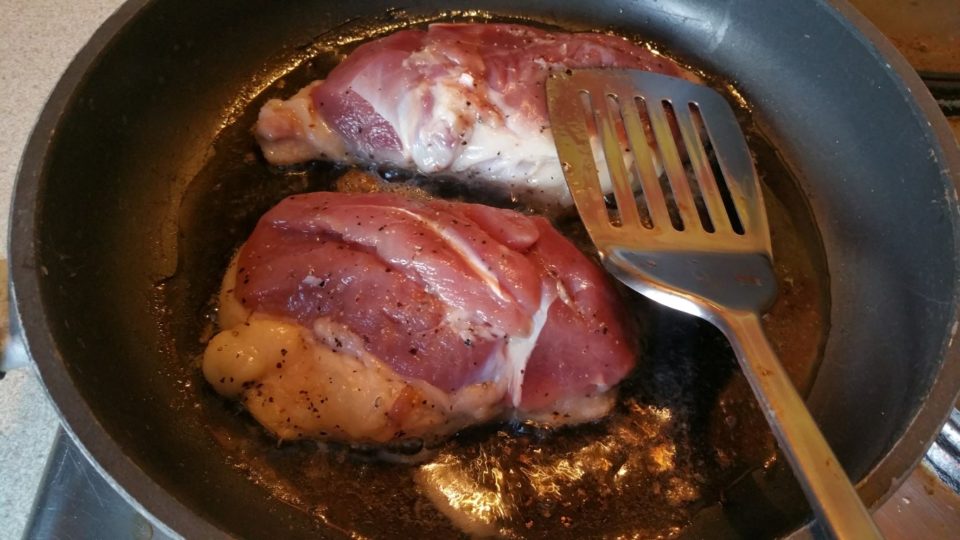 So the first thing to do was place them fat side down into a cool pan on medium heat. As the pan heats, the fat melts until it's about a centimetre thick. Under no circumstances should you pre-oil your pan as there's simply no need. Once there was a nice brown on the fat side, I turned them over for about 3 minutes before popping in the oven.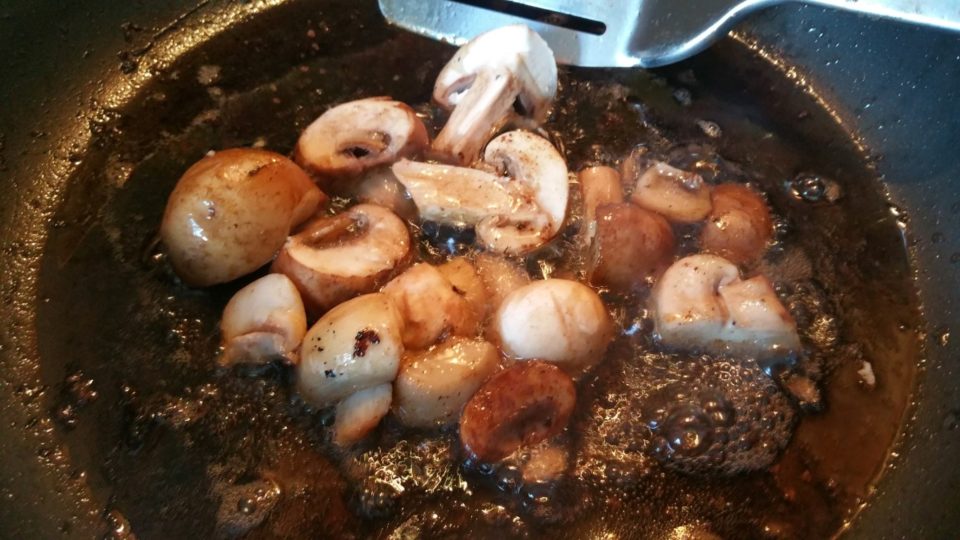 I then started frying my mushrooms in the leftover duck fat. I had also spooned some fat over my potatoes before putting them into the oven. This would give them a nice crisp and flavoursome coating.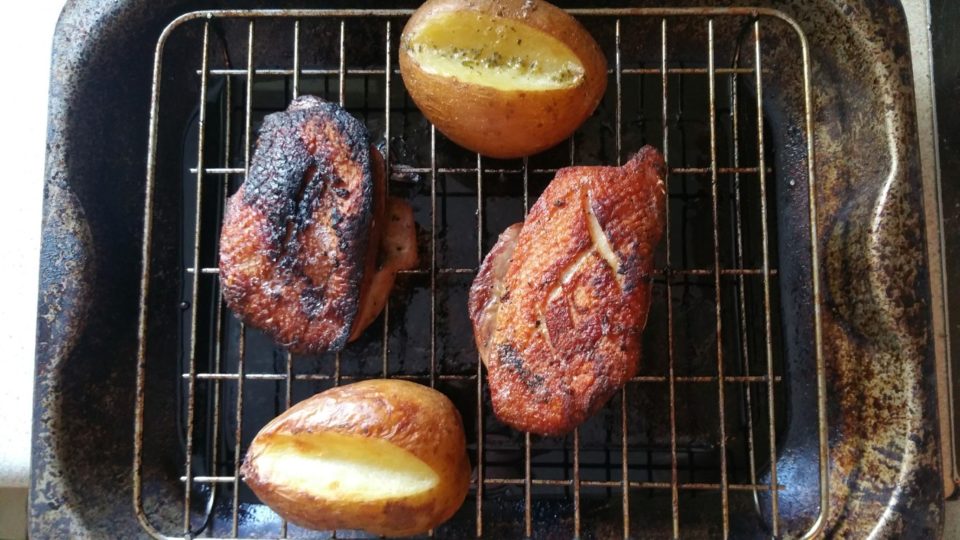 About 15 minutes later, I took them out of the oven and enjoyed. It was juicy and delicious with just a tad bit of pink in the middle. Since the packs are convenient, the potatoes I used were also convenient packs so they are pre-cooked and their instructions mentioned 15 minutes in an oven at the same temperature as the duck so in terms of timing, they worked perfectly. They were from Finnegan's Farm. Of course, the potatoes were not as good as freshly cooked potatoes but for the sake of 15 minutes and no preparation, they were brilliant.
I have since cooked the Maple & Mustard pack and the Aromatic pack with equal success. Looking at the website, they have a Smoky Spice pack too which sounds great but they were out of that one at Bloom.
Speaking of Bloom, I only got in to that for the last two rainy hours on Monday. I can't recommend going late on Monday enough because most of the vendors are giving major discounts to get rid of stock. The duck breasts for instance are €5 per pack but I think the deal on the day was 3 packs for €10 so that was a great deal. It didn't end there, we got a load of steaks and a full leg of lamb for a mere €45 from The Premium Butcher. That's possibly half the price or very near it.
Even on the way out, there was a wood sculpture. They were all sitting under a tree after the long day but I headed over with the intention of buying Pauline a little pig in boots made of wood for €25 but without having to ask, he offered it for €10 and then up-sold us the little teak folding table which was marked as €35 for I think €15 or near enough. It was a complete bargain of a day and I look forward to next year.