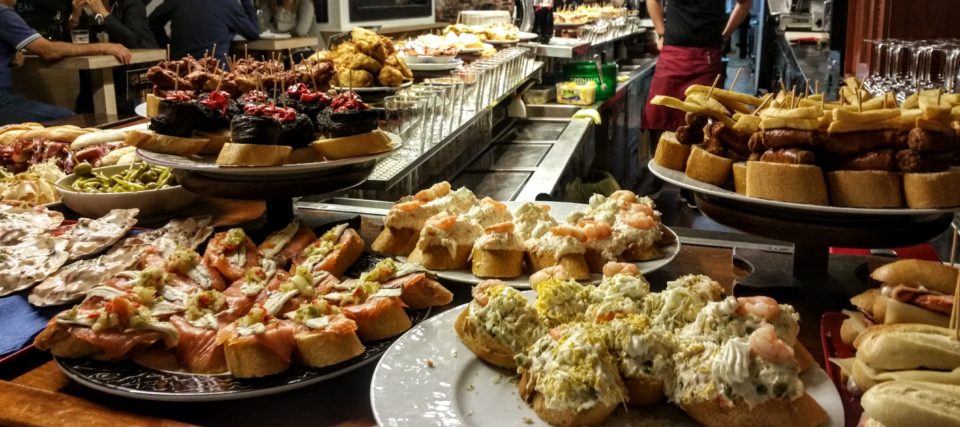 Walking around the streets of the old town in San Sebastian, you can't help but wonder about the whole pintxo thing. They are everywhere, almost every bar is packed full of plates of random pieces of food. 
A pintxo is sort of like a bigger version of tapas and is often sitting atop a piece of bread, pierced by a cocktail stick. They are the Basque version of a pincho but don't call them that when in the Basque region. Pintxo is pronounced peen-cho by the way.
So, how long has your pintxo been sitting on that bar? At least a number of hours and likely since opening time. It's also possible that it was sitting on the bar the day before. If visiting the Basque region, you really don't want to be picking anything off a bar, even if it looks appetising. I suppose it depends on the pintxo. If it's in a pot that gets heated up, it's probably fine. Also, if you are there when a fresh plate is put out, that's also fair game. There's a far better way of doing things though, look for a menu. If there's one on the wall, that usually means it's cooked or prepared to order meaning it will be fresh.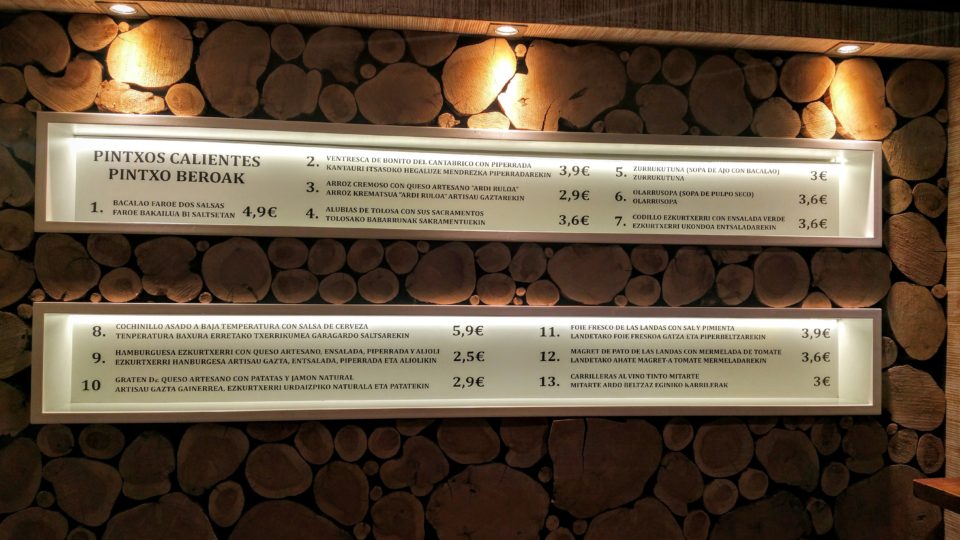 Last week, I spent two days in San Sebastian with my girlfriend. She had been there before but it was my first time. We couldn't get any of the Michelin star restaurants as they were either closed or fully booked so the first day we sort of wandered around and grazed a little. I was pretty underwhelmed by most of what I had in terms of pintxo but the wine was good and stupidly cheap for someone from Ireland. Two large glasses of rioja for about €3.50? A complete bargain!
We needed a better plan for day 2 and thankfully that came in an unlikely form. As you probably know, I'm a beer writer. My normal blog is www.taleofale.com and you can read my beer post here. After we were finished grazing in pintxo bars, we headed to a beer bar called Akerbeltz up the hill near the Santa Maria church, probably the best place for good beer in the city. While there, we were informed about a brewery birthday party in a nearby city so we hopped in a cab and went there. We had a great time but a local Welsh guy we met at the party emailed us a list. That list not only contained the name and address of his favourites, but also suggestions of what to order while there. Armed with that list, we headed out the next evening in search of a foodgasm and we pretty much got it.
Cuchara de San Telmo was my favourite one from the list but it's a little different than the others as they only do made to order. The bar is too small and busy to really eat inside but there's a small seating area outside at the back if you are lucky to get a seat. they do table service there too. We were lucky because one table was taken up with one man. When I inquired if the other seats were available, he invited us to sit down. Apparently, this place can be incredibly busy with queues around the corner but it moves quickly enough. A long queue might just be worth it though. Pretty much everything on the menu is likely to be pretty amazing so if you only have one place to visit, make sure it's here.
Below is the list we were sent. The name of the bar is in bold and the name of the recommended dishes are underlined. I have also added in comments of what we thought of the ones we made it to. We didn't quite make it half way through the list before we were stuffed. I hope the list helps if you find yourself in San Sebastian and are overwhelmed with choice.
Zeruko (Calle Paesacderia, 10) – La Hoguera (a cod dish)
Sashimi de tolosa (beef prepared in different 3 ways) – Closed when there.
La Cepa (Calle 31 de Agosto, 7) – Jamon de Jabugo – lovely plate of sweet ham. Big plates available but spendy. Worth it though.
Hongos a la plancha (Grilled mushrooms) – A Must get. So rich! They also had some of the best wine we had in San Sebastian.
La Vina (Calle 31 de Agosto, 3) – Tarta de queso (cheesecake) – Skipped as we didn't want dessert.
Galtxagorri (Calle 31 de Agosto, 22) – Magret de Pato (duck breast)
Cochinillo (Suckling Pig) -1st stop. The duck was amazing. Suckling Pig good but too fatty. Also potato and cheese dish was great, that one we actually picked up from the bar but they heated it.
Cuchara de San Telmo (Calle 31 de Agosto, 28) – Carrilleras (beef cheeks) – Amazingly succulent.
Viera 'Toro' (scallop) – not available.
Cochinillo (suckling pig) – Beautiful crispy crackling. 
Also had risotto which was amazing. Frois gras – nice but not my thing personally. Also had some squid which was good but not great so I wouldn't bother with that one.
Gandarias (Calle 31 de Agosto, 23) – Solomillo (little fillet steak on bread) – Just had wine. The steak looked nice but just steak on bread. Not worth bothering with.
We didn't make the rest below but if you read this and try them, be sure to comment and let me know how you got on.
---
A Fuego Negro (Calle 31 de Agosto, 31) – Makobe (little burger)
Goiz Argi (Calle Fermin Calbeton, 4) – Brocheta de Gambas (prawn skewer)
Pimientos de Padron (green peppers)
Casa Urola (Calle Fermin Calbeton, 20) – Hamburguesita (little burger, changes depending on season)
Viera en crema de ajo blanco (scallop in garlic cream)
Borda Berri (Calle Fermin Calbeton, 12) – Ravioli de Txangurro (crab ravioli)
Pulpo (octopus)
'Kebab' Costilla (pork rib)
Egosari (Calle Fermin Calbeton, 15) – Brocheta de rape, bacon y langostino (monkfish, bacon and prawn skewer)
Astelena (Plaza de Constitucion, 120) – Solomillo (little steak)
Bacalao (salt cod)
Rabo de Buey (oxtail)
La Mejillonera (Calle del Puerto, 15) – Mejillones (mussels, they've got them in different styles)