In the last article, I talked about the Port Charlotte side of Islay which covered pretty much every distillery not down by Port Ellen in the south.
For the Port Ellen leg of the trip, we didn't need a car so we dropped that back in the morning, left our luggage at the hotel and headed off to the first and closest distillery, Laphroaig.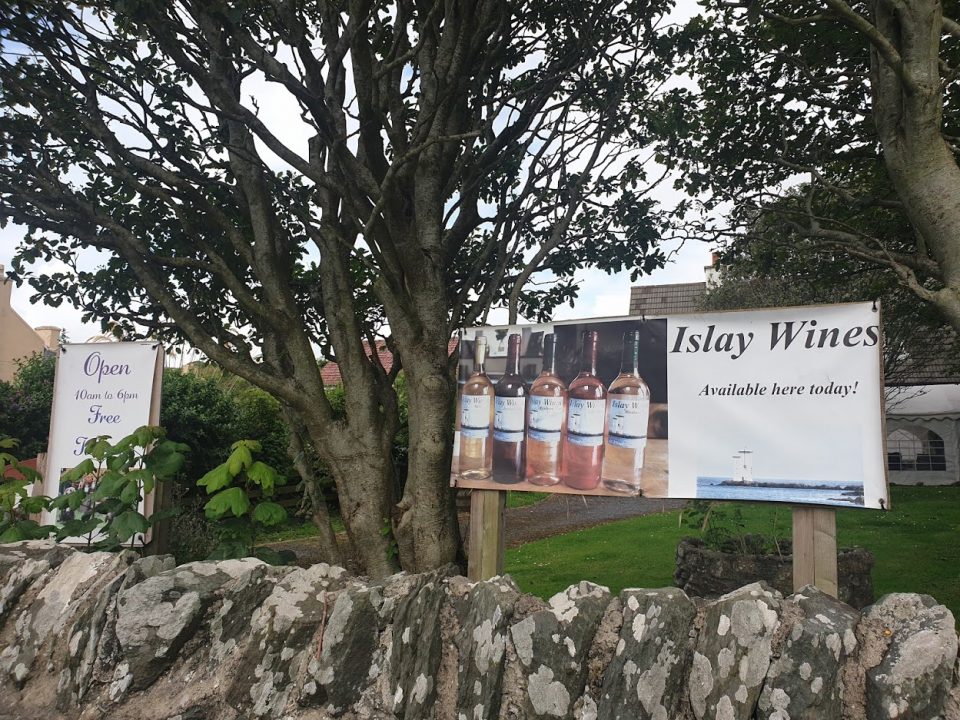 One of the first thing we noticed as we headed out of Port Ellen was a sign if Islay Wines. It's basically someone's house with a gazebo out the front where they do a free wine tasting as people come in. We were brought through all of wines available.
Clearly, grapes don't grow on Islay so these are fruit wines. The rhubarb is particularly good but they also do a barley wine, not to be confused with the beer equivalent. It's a wine made out of barley and is rather good. We bought a few bottles for the craic and to support local people and left them there to pick up after the distillery tours.
Laphroaig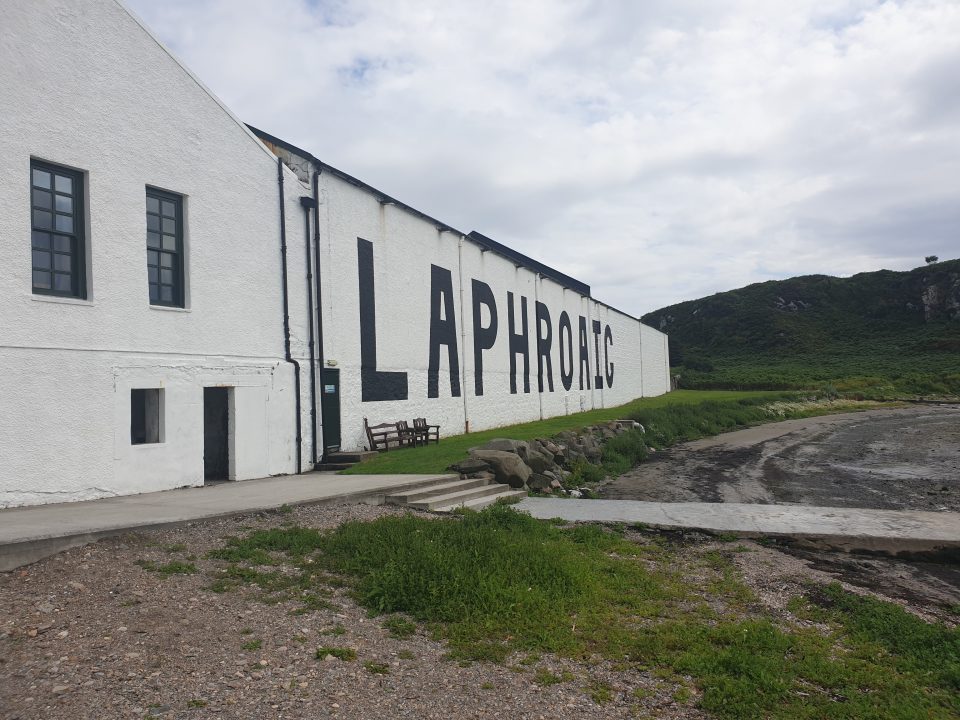 I'm fairly familiar with the regular Laphroaig whisky of course, anyone who likes peated Scotch is but I've also had some cask strength 25 year old at the Laphroaig stand at Whiskey Live in 2017. It was brought out from under a table as it wasn't technically part of the show but the man recognised someone who would appreciate it. Smoooooooth.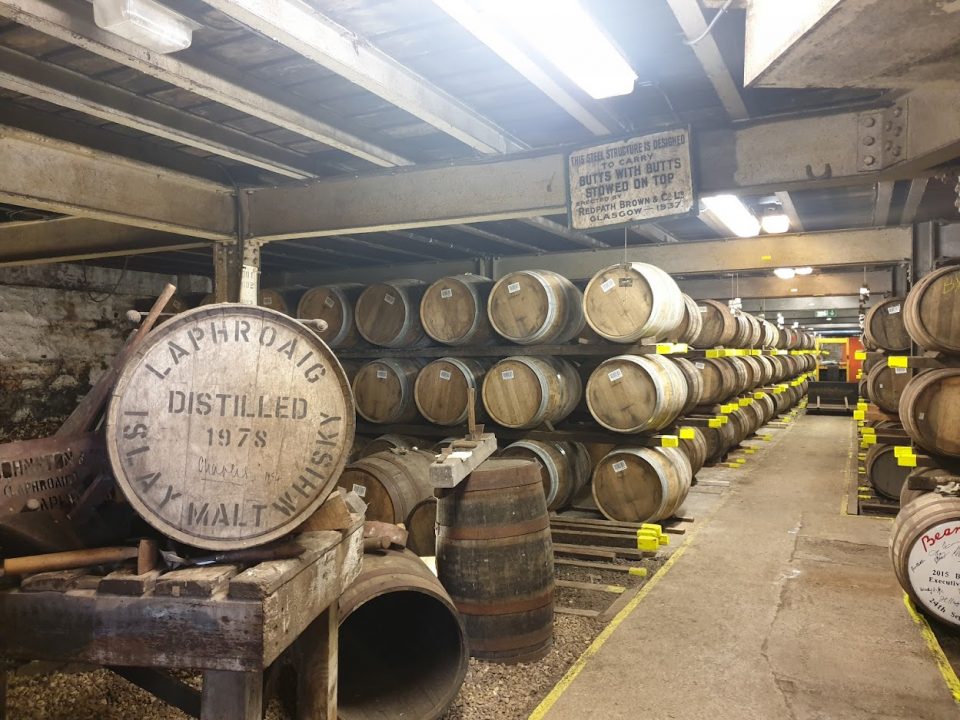 I did the usual tour around the distillery which of course is well worth doing because they still malt their own barley onsite, at least they malt as much as they can but they still need to bring in other malted barley from the Diageo owned maltings in Port Ellen. We literally stand inside one of the kilns.
One fun thing I learned about is the friends of Laphroaig scheme they run. Essentially, when you buy their whisky or show up at the distillery, you get a little cert which entitles you to a little plot of land. You register your plot and then any other certificates you get, you can add to it your account to gain points which you can use in their shop. If you like, you can put on a pair of boots and trek out to your plot of land but that takes you away from the precious whisky so I didn't bother. This account or cert earns rent in the form of a mini dram bottle of Laphroaig once per year, if you visit the distillery that is.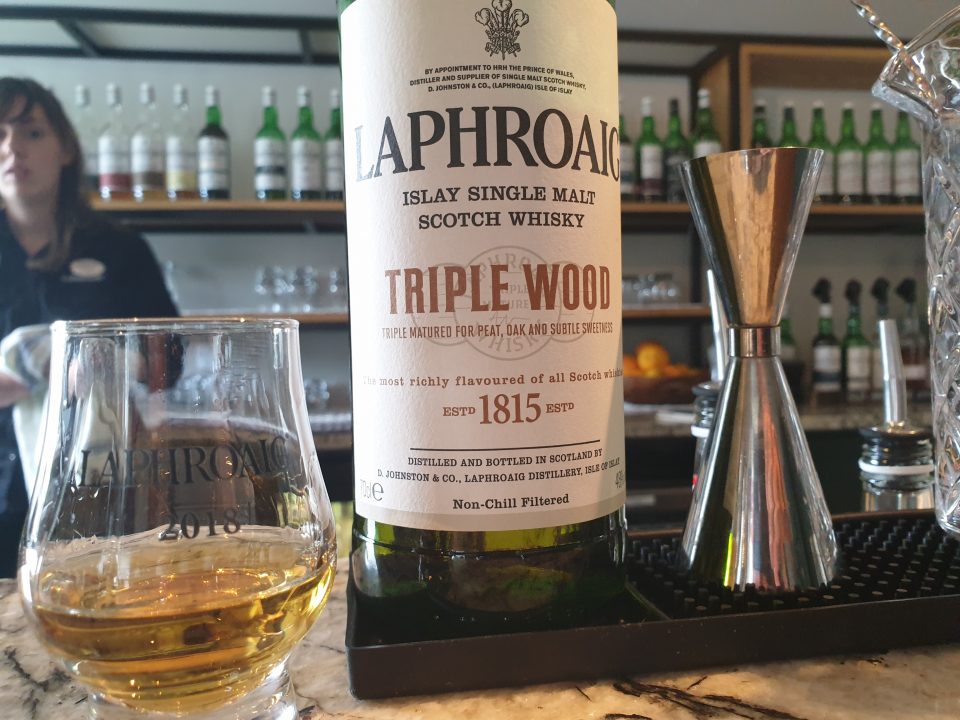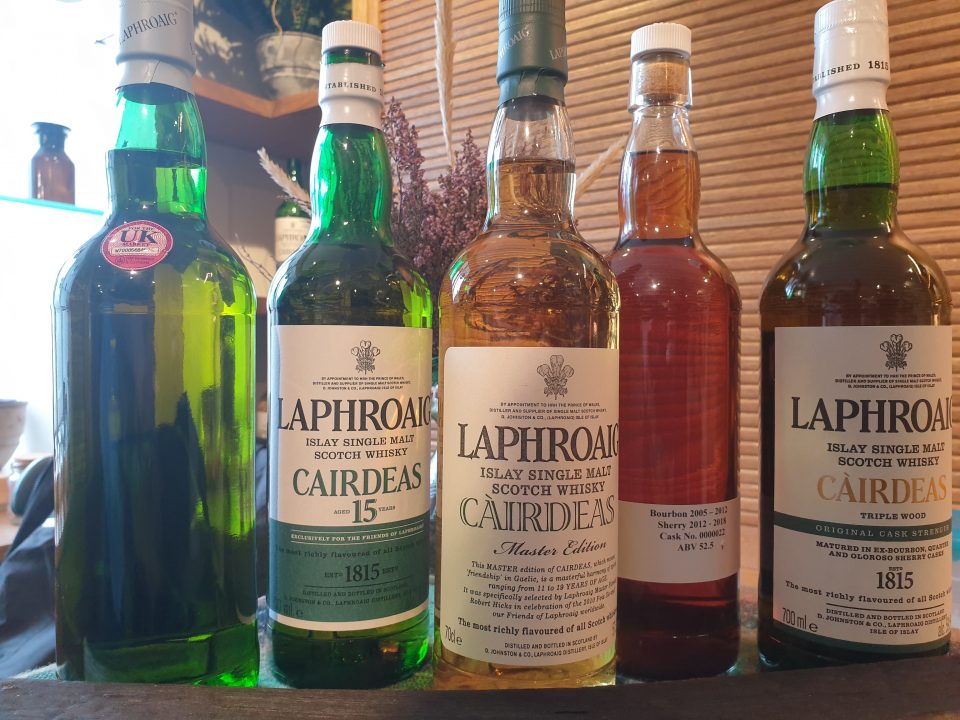 After the main tour, I did a tasting of all the whiskies shown above. The green, unlabelled one on the left was a 15 year old one that Prince Charles used to sell on his own website. Laphroaig uses his Royal warrant since 1994.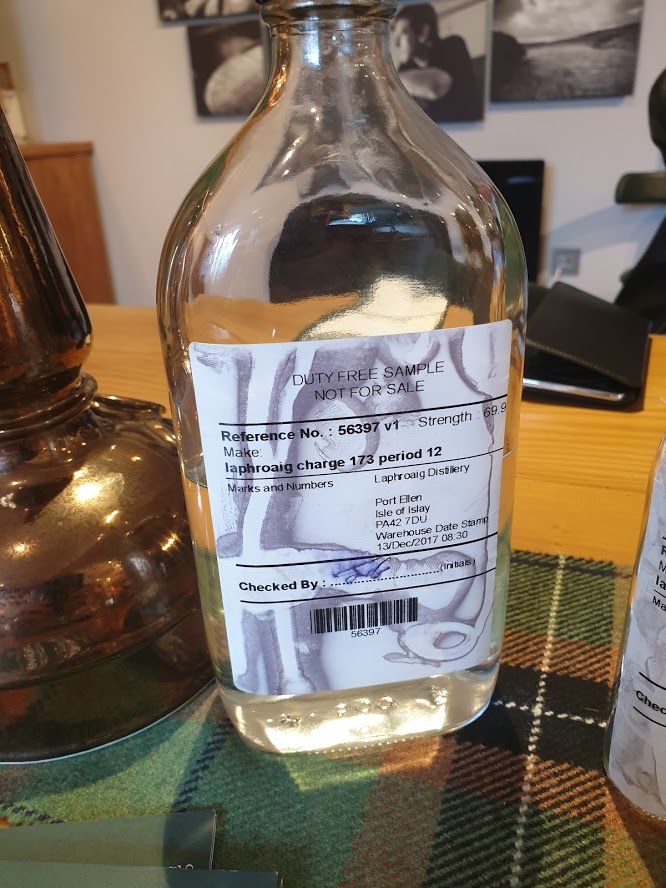 The other odd bottle to the right was never for sale. It's a cask strength blend of bourbon and sherry casks. We also got to try some new make spirit which clocks in at 69.9% ABV and is basically poitín.
My favourite was the Masters Edition but a close second was the 15 year old Cairdeas and that's what I purchased from the gift shop in the end for budgetary reasons.
Lagavulin
The next day was August 6th which was my 40th birthday and I was being really spoiled that day. Lagavulin is the furthest of the three local distilleries but it's still only a 4km walk which takes less than 50 minutes. In fact, you can easily do it in about 40 minutes.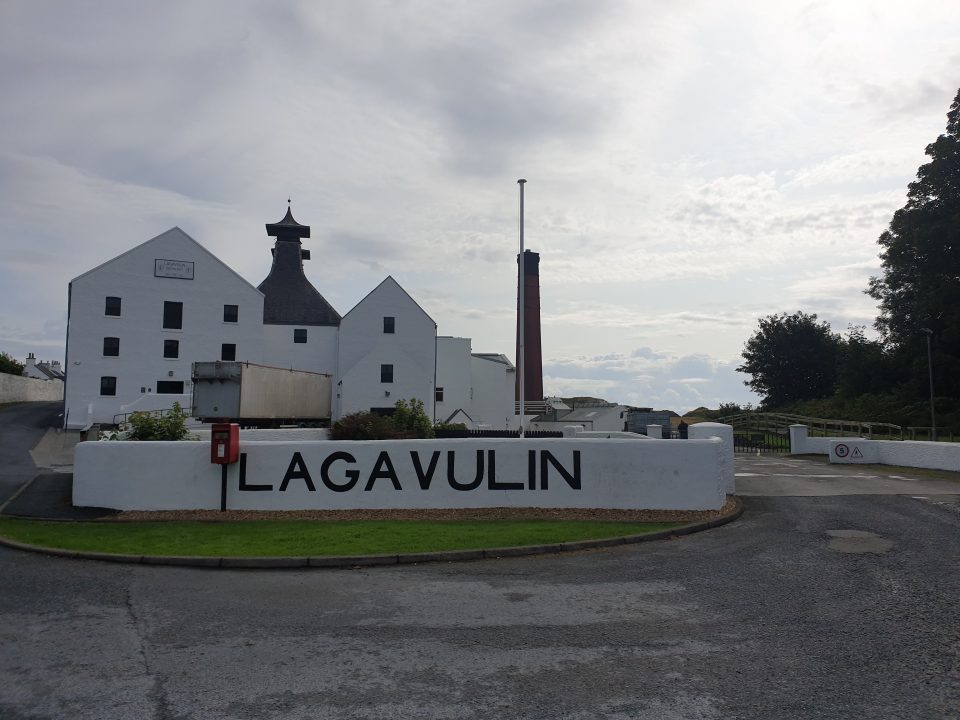 I'll be honest, I first heard of Lagavulin from Parks & Recreation. It was all that the character, Ron Swanson drank. It's not on most whiskey menus in Ireland and when I finally tried it, I was blown away by how smooth it is. I obviously had to visit and my wife arranged a special warehouse experience for me.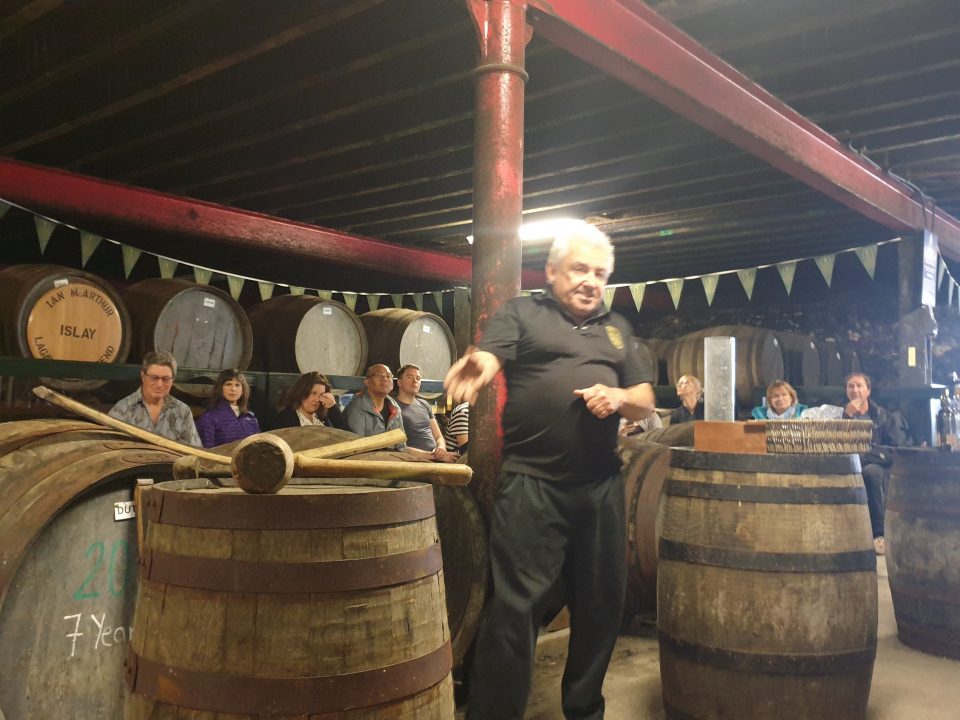 On the warehouse experience, the legend himself, Iain McArthur comes out of retirement to guide us through a tasting of cask strength Lagavulin drawn directly from the casks themselves. In fact, we draw the whisky ourselves from the casks if we were lucky enough to be picked.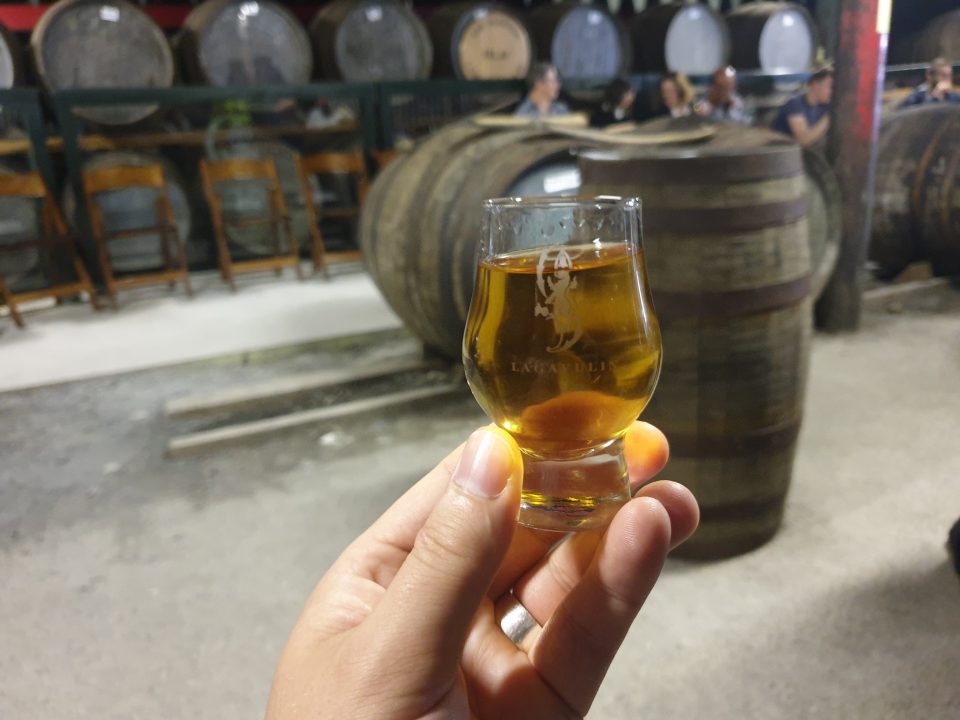 In my case, Iain selected me to draw the 21 year old bourbon cask because it was my 40th. He then came over and completely filled my glass to overflowing. That was enough to fill three driver dram bottles and enjoy a full dram from my glass. Considering I couldn't afford to actually buy a bottle of 21 year old Lagavulin, that was good going. We also tried the 21 year old sherry cask. At £30 per person for the Warehouse Demonstration, it's a bit of a bargain actually.
Oh and remember how I mentioned Ron Swanson earlier? Well Iain mentioned that had we been here a week later, Nick Offerman himself would have been there to launch his very own version of Lagavulin.
Ardbeg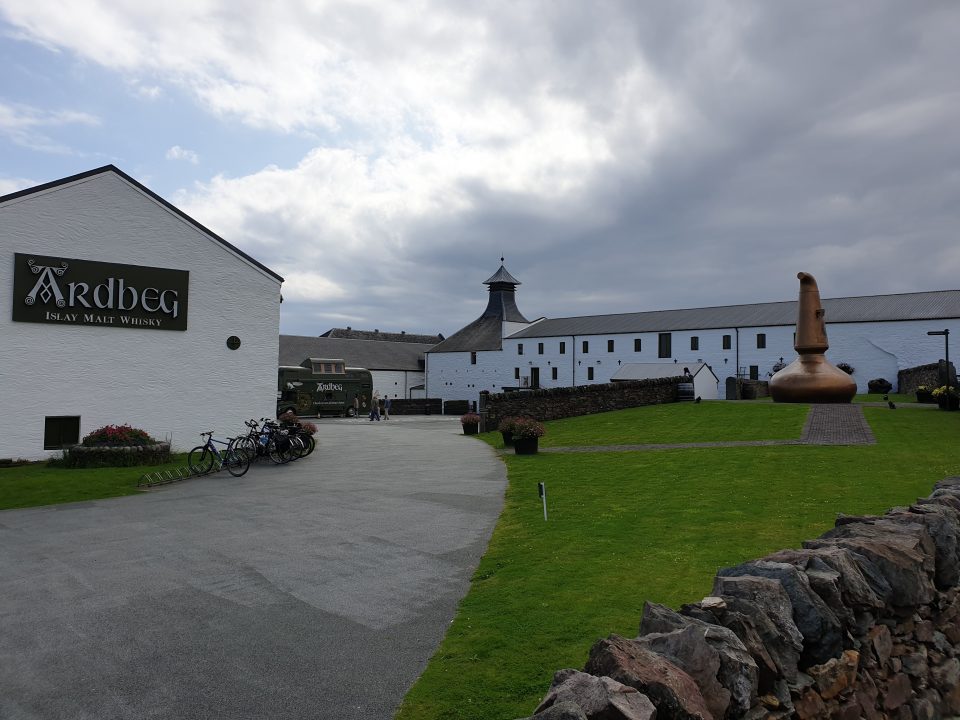 Next, we headed to the Ardbeg distillery where I had a tour booked as well as another warehouse tasting.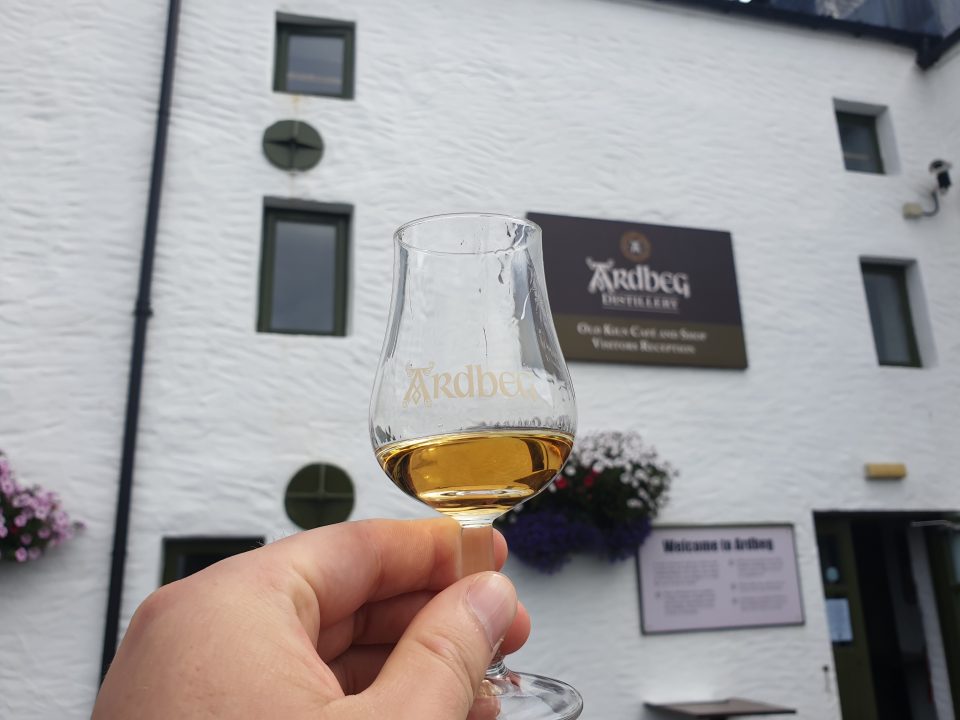 I've been a fan of Ardbeg 10 for years and it's probably the peated Scotch I drink the most. Myself an Pauline often enjoy a "wee dram" of Ardbeg so we were both really looking forward to this one.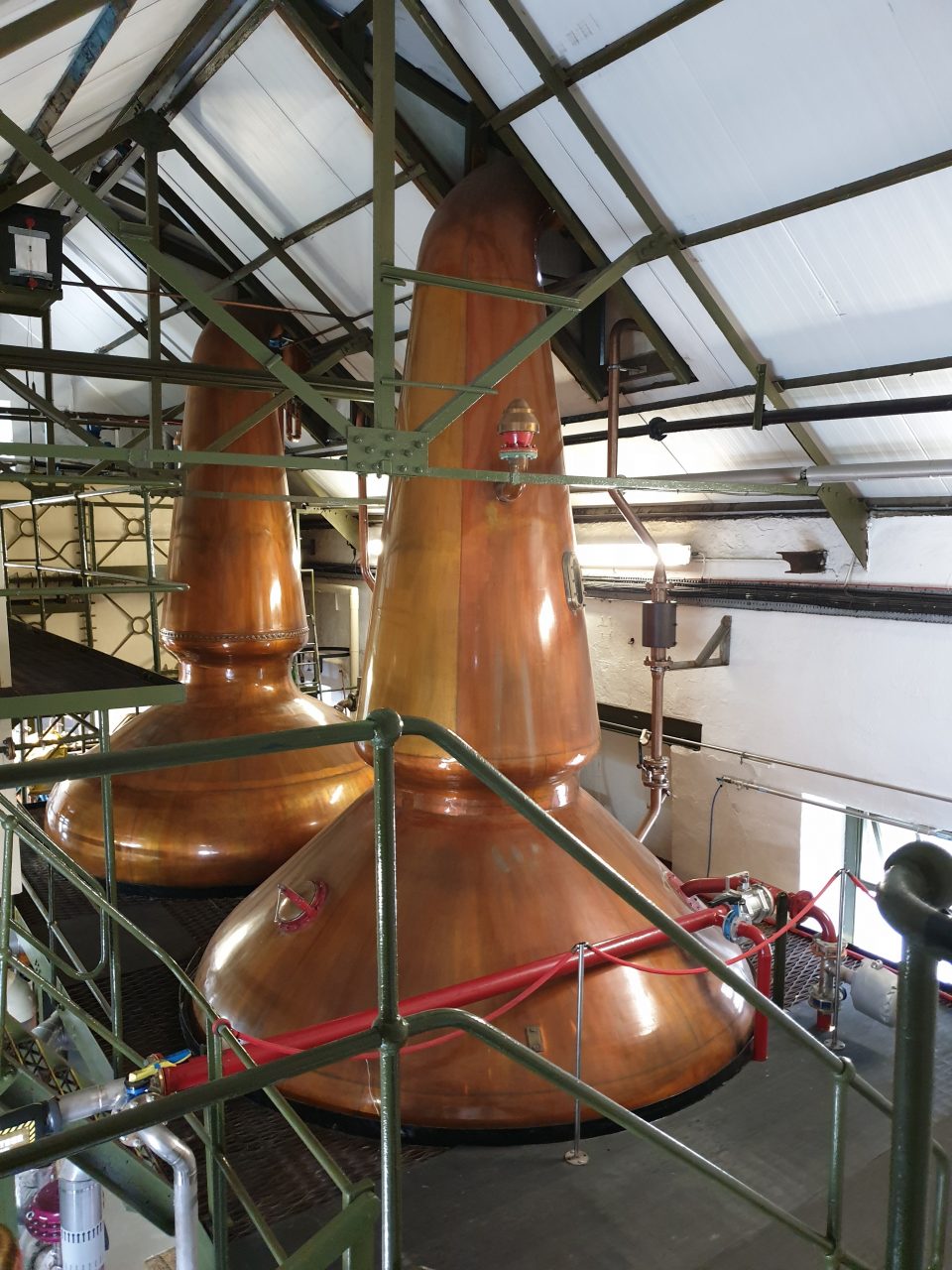 We did the usual tour which I won't bore you with other other than to say that it was a really good tour. Ardbeg by the way is the only one of the three Port Ellen distilleries that has a restaurant onsite so it's one of the best places to eat in the area. Bear in mind, they only do lunch, not dinner unfortunately.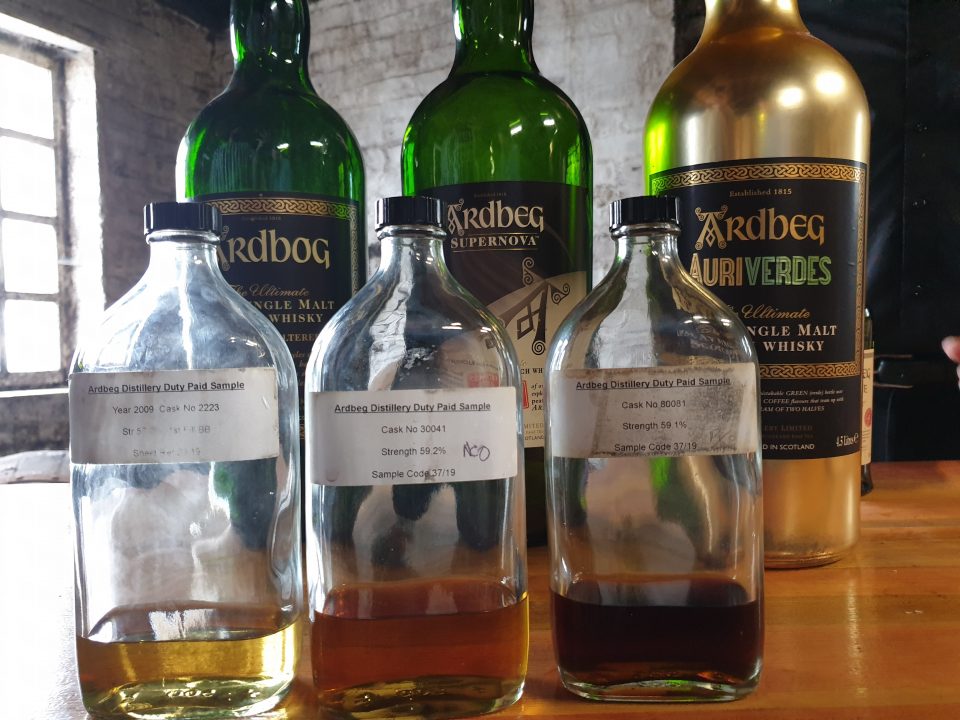 The Ardbeg tour at 2pm is the one that includes the tasting in the warehouse. It lasts 2.5 hours and costs £50 but it's worth it. I've never even seen these versions of Ardbeg before. At the gift shop, I went for a bottle of An Oa which I had tried at the restaurant with lunch and really enjoyed.
Food on Islay
Now, you might think that Islay is a tourist destination for whisky lovers so there must be plenty of places to eat? You'd be wrong so be prepared.
Over in Port Charlotte, there are two places to eat and we went to both of them. The first is the Port Charlotte hotel and the food was excellent. I don't think we had a reservation but we luckily got the last and only table available.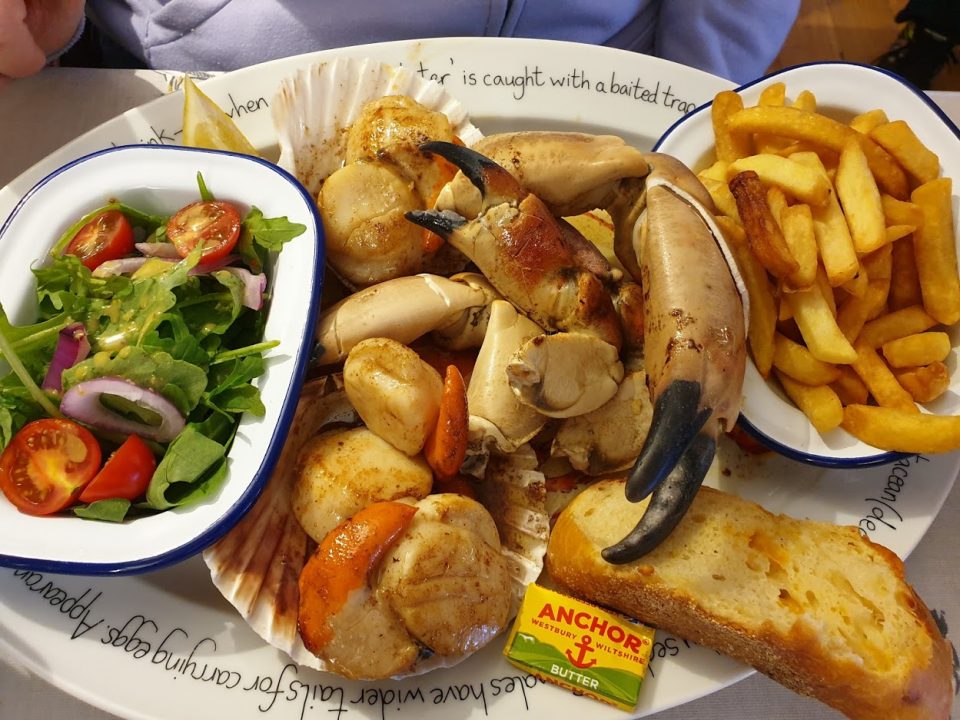 For the next night, we did have a reservation at Lochindaal Seafood Kitchen which is just on the edge of town. It's quite new I believe and is part of the hotel of the same name at the other end of the village. Seafood is their specialty but due to the nature of their clientele, if you want anything fancy like lobster or a seafood platter, you need to order it 24 hours in advance. Pauline did that and the food was amazing as well as generous. The scallops in particular were beautiful.
In Port Ellen you of course have the Ardbeg restaurant for lunch and for dinner, your two real options are the Sea Salt Bistro which was pretty good and the Islay Hotel itself. Both do very nice meals though not as impressive as the Port Charlotte offerings.
I really enjoyed my trip to Islay and it's rather easy to get to from Ireland during the summer so I'm sure that some day, I will get back there but for now, I've a bunch of souvenir whiskies I brought home.