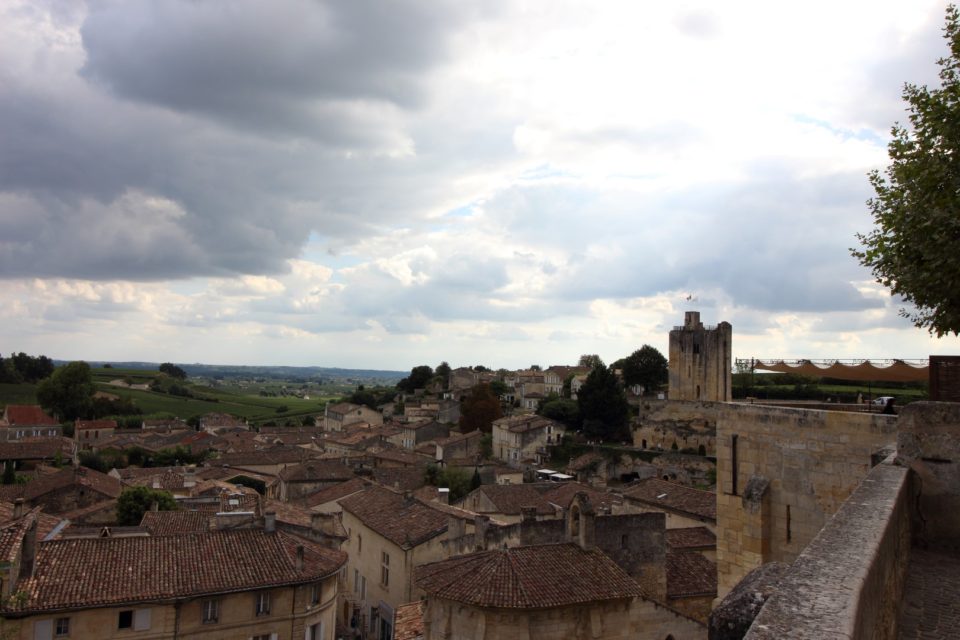 We left San Sebastian on a wet and miserable Monday morning. It was even a little chilly due to the rain. I had high hopes for the Bordeaux region of France which is known for its sunshine. Originally, we were supposed to stay for 2 nights in Bordeaux city itself and were going to visit some vineyards from there but while in San Sebastian, we decided to change that. We had free cancellation with booking.com so we cancelled our city hotel and instead booked a Château a little outside of Saint-Émilion called Château Valandraud.
We knew very little about Saint-Émilion other than reports from friends that it was the place to go for wine and we knew nothing about Valandraud other than it was a relatively new vineyard that was about 20 years old.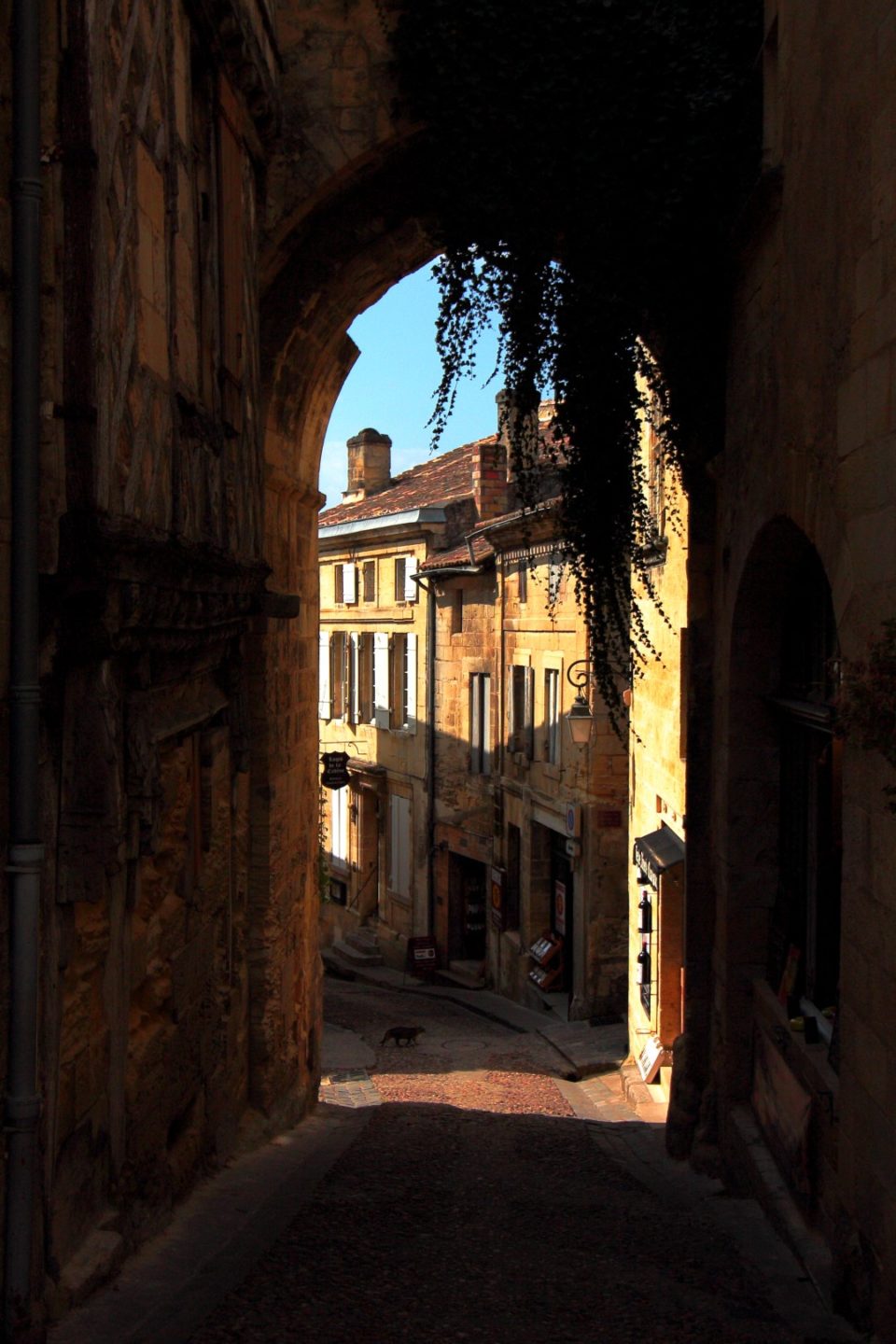 We arrived to a stunning place indeed. First, we visited Saint-Émilion itself and walked around. We visited the visitor centre and it turned out that you can't just arrive at a vineyard. You need to pre-arrange it. Some have open days but you have to get there yourself. It seems that the only way to do that is by taxi, private car or chauffeur. There were a lot of the latter around. We decided that since we were staying at a Château, we might as well just do that tour and then wing the rest of the trip.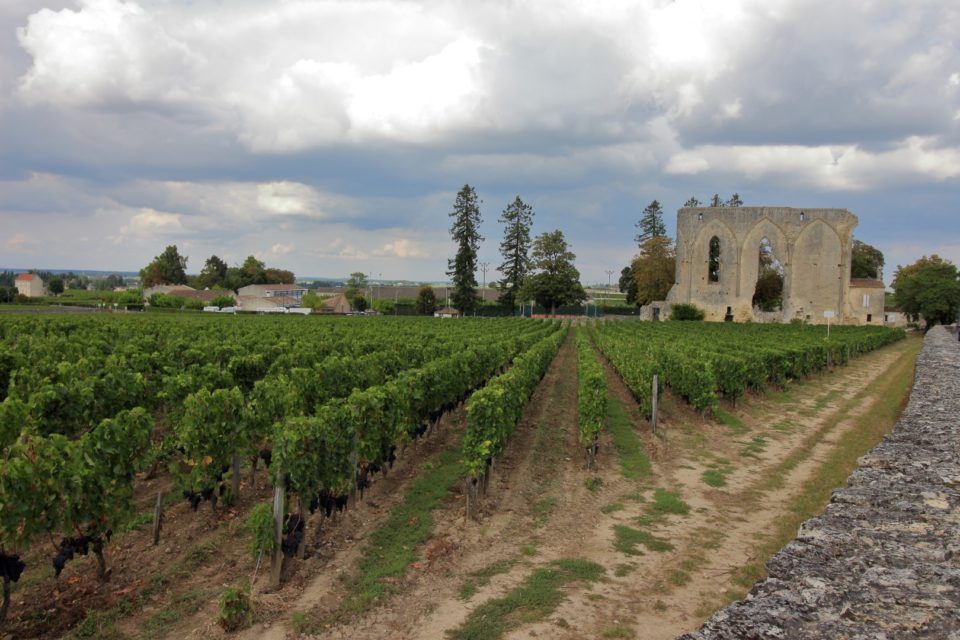 The town itself is set on a hillside overlooking the many vineyards of the region. It's a UNESCO world heritage site with narrow alleys and what seems like more wine shops than people. The population is less than 2000 but there can be multiples of that number there at any one time due to wine tourists.
After an hour or so, we went off in search of Château Valandraud. this proved easier said than done because it showed up in different locations depending on what GPS system we used. It didn't appear on any of the vineyard maps dotted around the countryside. Being 20 years old, it's far too new to appear on any signs. We eventually found it by using google maps and having to use data roaming.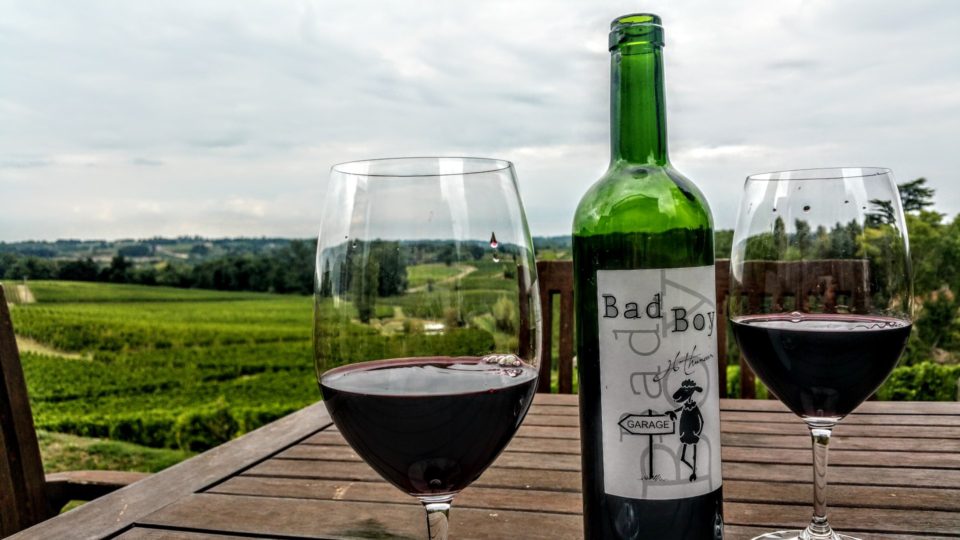 Once we settled in, we grabbed a bottle of their Bad Boy wine from the fridge for €18 and sat on the deck just taking it all in. What an absolutely stunning view and experience. Sitting on a deck overlooking rolling vineyards drinking a bottle of rather good red wine. We spent an hour or so enjoying the scenery and then 20 minutes in the outdoors hot tub before we headed back to the room to get ready for dinner. We had arranged the last table at a local Michelin star restaurant at another Château. It was a 5.3km walk so we gave ourselves an hour and 15 minutes or more to do it in. Plenty of time since we normally walk 6km in an hour.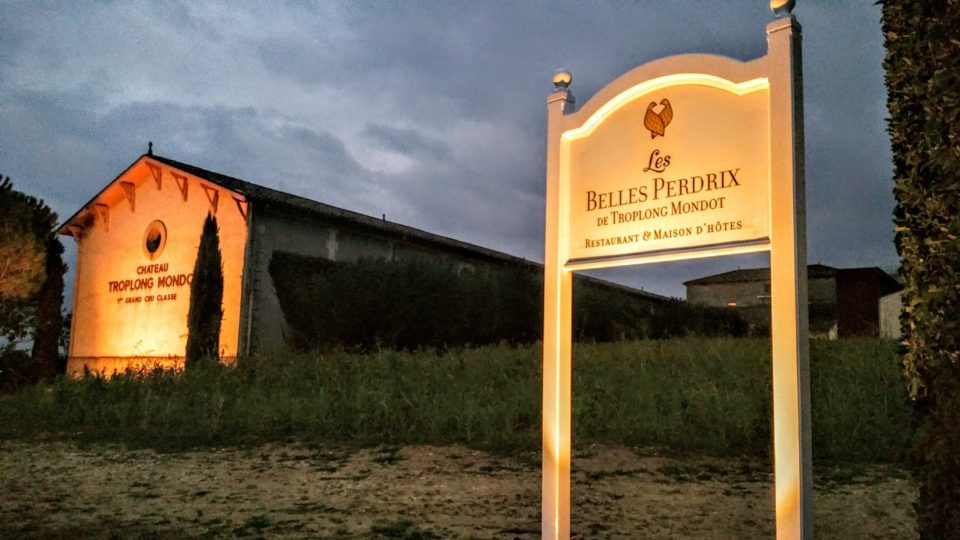 Les Belles Perdrix is the restaurant located on the Château Troplong Mondot estate. It sits atop a hill overlooking the surrounding countryside. As a result, it has a water tower which slightly spoils the look of the immediate area. That water tower is clearly visible from Saint-Émilion and it's only about two kilometres from the town centre.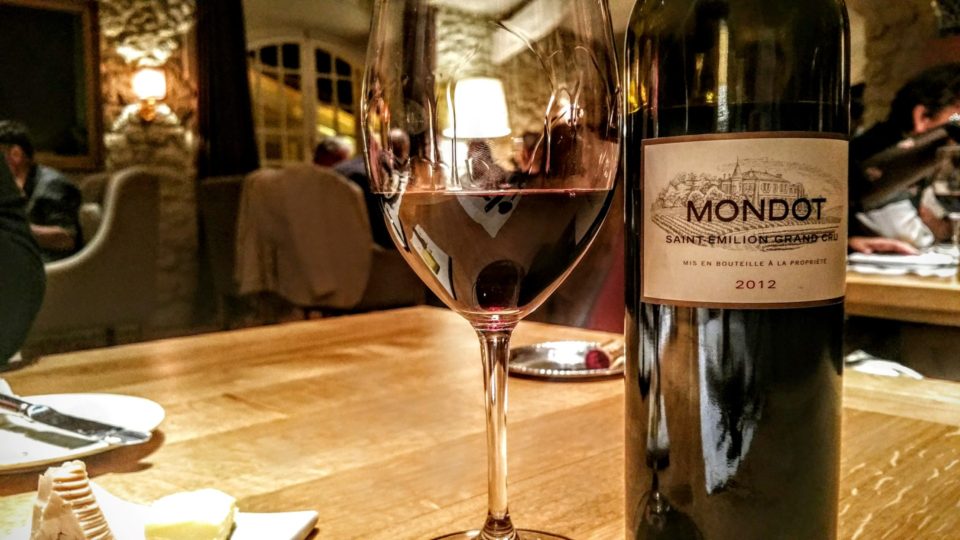 They have a few menu options but we went for the carte blanche for €100 per person. That means whatever the chef wants to serve. I reckon it's the most popular as the chef uses whatever local seasonal products are available and it's a chance for him to experiment. I didn't take any pictures of the food as that's for Instagram users. We had a glass of house white while searching for a bottle of wine to drink from the menu. I did take a picture of the beautiful 2012 Mondot Saint Emilion Grand Cru we settled on. We made use of some data roaming to look up wine on the menu and the 2012 seemed the best value for money. It was €50 for the bottle in the restaurant but this bottle retails for about €90 and we loved it so much, we bought a few bottles to take home at €38 each. The 2006 vintage in Dublin is €179 in O'Briens a the moment. I have read the 2012 bottle should reach its peak in 2018 so we will try to age at least one of them until then as it's not too far away.
The food was stunning and I would go so far as to say it was the second best meal I have ever had in my life, the first being Chapter One in Dublin. It was only my 3rd Michelin star restaurant. Pauline on the other hand has been to many more and even she rated it one of the best she had ever been to.
While the walk was lovely earlier, we arrived just as it was getting dark and had no intention of walking back so we had them call us a taxi. One thing to bear in mind is that there appears to be a set price in the area rather than a meter system. The 5km journey cost us €20 so it's something to bear in mind. In our case, the taxi driver didn't even have to come out to collect us as he was waiting for another party that wasn't finished yet so he took us for the 10 minute round trip rather than sitting there. It's a good thing we had walked there as I believe the price to collect and take us there would have been €25. It might seem a little ironic to be complaining about taxi prices while dining at a Michelin star restaurant but we don't make a habit of spendy nights out.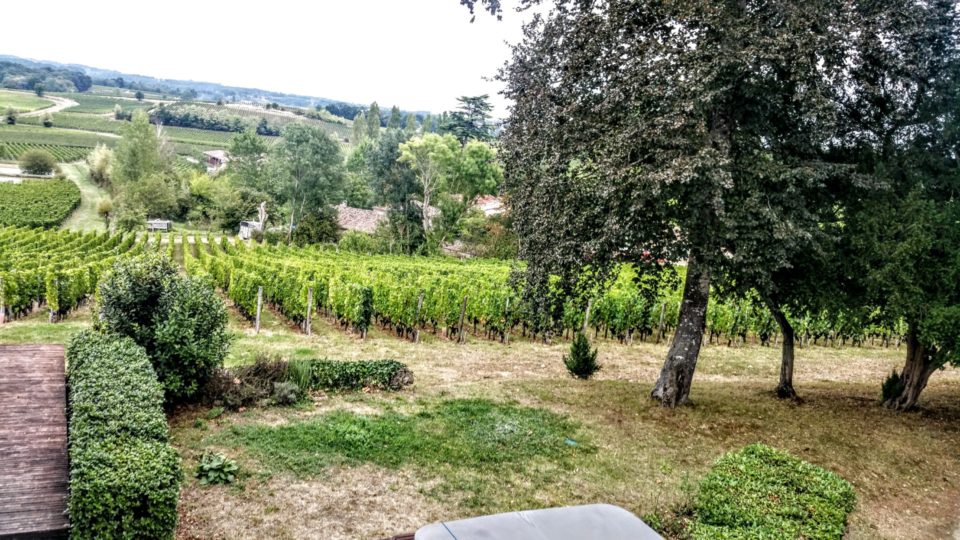 The next morning at 11 we had a free scheduled wine tasting as part of our stay. We assumed we would meet in the living room or perhaps on the deck and taste a few wines. How wrong we were. Our young French guide spoke excellent English having learnt in Glasgow of all places. I believe her name was Lorraine or something similar. Possibly Lorien? Anyway, the tour started outside with some history and explanation about the land, terroir, classé and all of that fun stuff. It was incredibly interesting and informative.
One bizarre thing I learned about the Saint-Émilion AOC is that the price of wine is determined by which appellation the grapes are grown. I imagine this holds true for the whole of France. If you look at the image above, it's taken from the deck of Château Valandraud and overlooks their vineyard. Not all of that is theirs, there are other estates on either side and the plots are mixed. The price of land right here is €1m per hectare. That's a lot of money. Now, take a look at the road in the top left, you can also see it in the picture of Bad Boy further up as the road appears in the glass. That's a different appellation. Valandraud is in the Saint-Émilion appellation and across the road is another appellation within the local AOC called Montagne Saint-Émilion. Land over there costs a far more reasonable €200k per hectare.
Does anyone reading this seriously think that the land on the cheaper side of the road is so different to the spendy side as to make any real difference to the grapes that are produced? Valandraud does have some plots over there but can't produce their Grand Cru from those grapes. Everyone knows there's a certain level of snobbishness in the wine world but this seems to be the epitome of it. It's basically vineyard apartheid.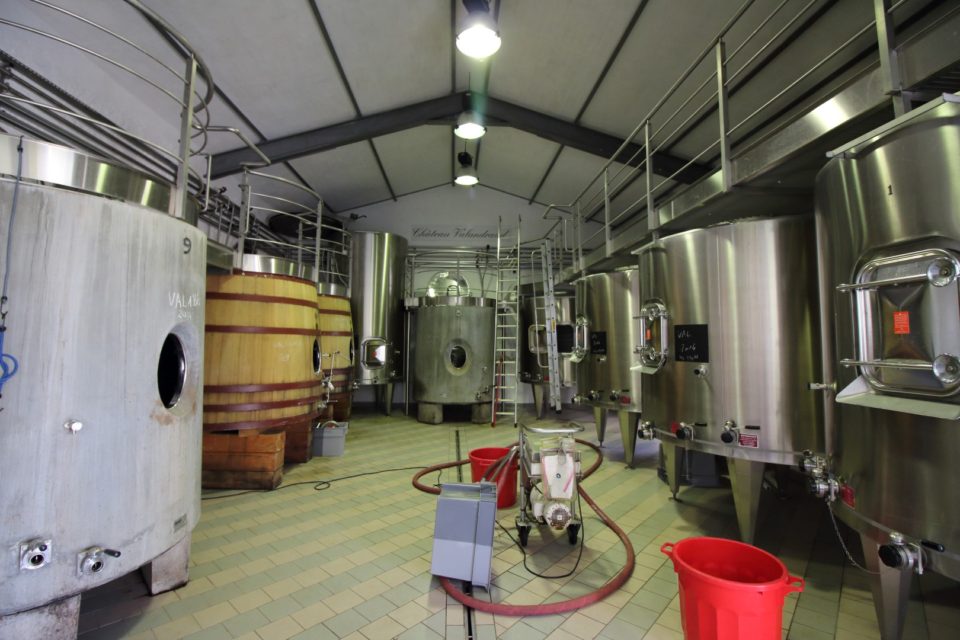 We were then taken inside the production facility in to what looks surprisingly like a brewery. I have been on countless brewery tours and have visited quite a number of wineries in the US and one in Australia but I have never actually seen the production facility itself. In the image above, you will see three different types of fermenting vessel or tank used by Valandraud. As you might expect, there were the oak and stainless steel vessels but there were also two concrete tanks. Concrete? I would have thought that would be toxic but apparently not. It would seem that concrete has all of the advantages of both wood and stainless with none of the drawbacks. Stainless steel is too perfectly sealed and doesn't allow the wine to breath but imparts no unwanted flavours. Wood does allow the wine to breath but imparts a woodiness that might overpower the fruit. Concrete allows the wine to breath at a microscopic level, imparts no undesirable flavours and also naturally keeps its temperature steady.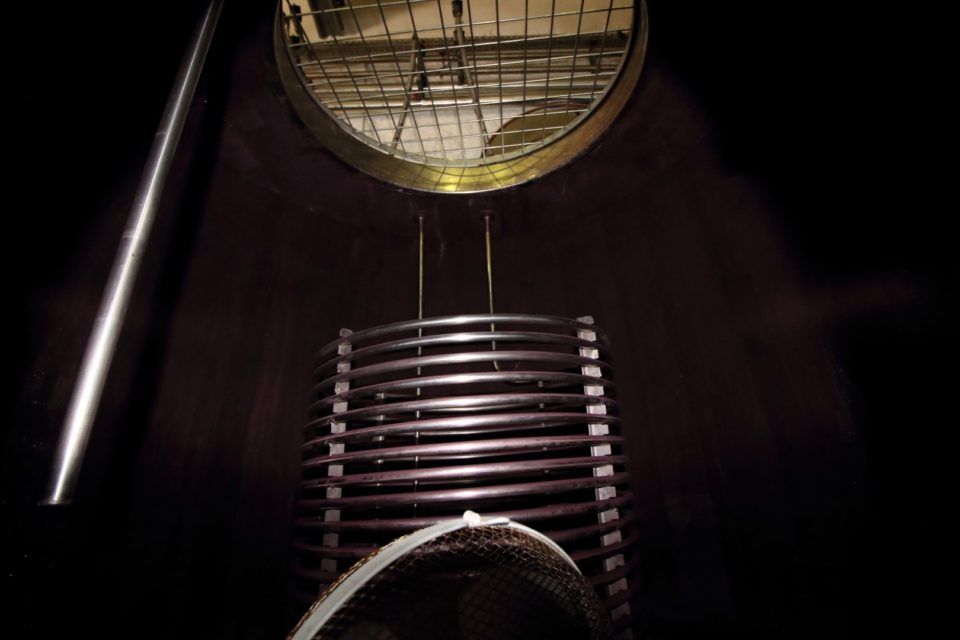 It would seem that wine makers all over the world are turning to concrete vessels to age their wine. I would say the only downside would be physically moving them around if you had to change the layout somewhat. Could a normal forklift move it or would you need to hire some sort of crane like machine?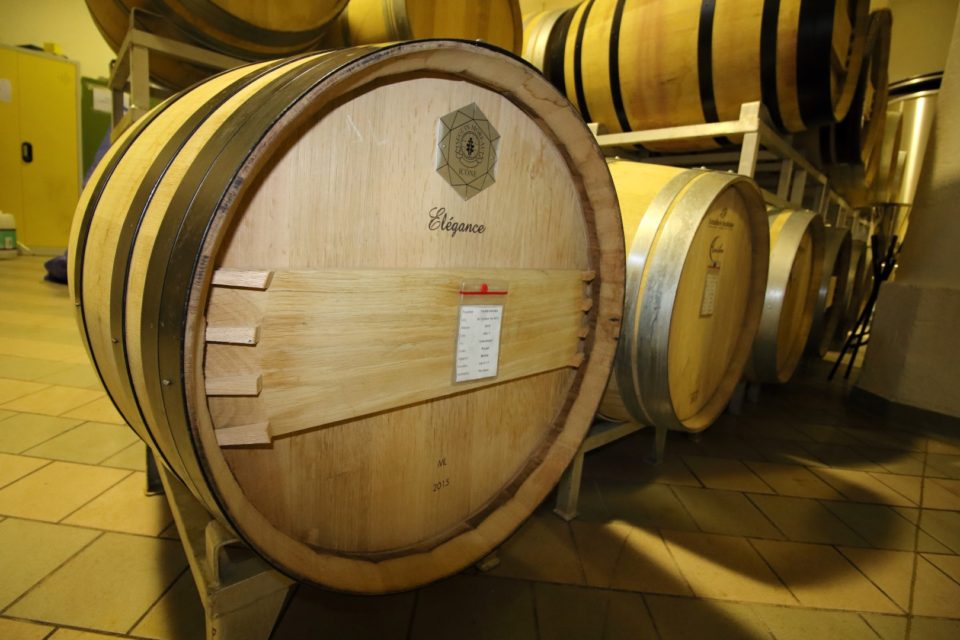 If I remember correctly, when Jean-Luc Thunevin initially set up his vineyard in 1989, he was given either a gift or a loan of a number of barrels by a friendly cooperage by the name of Seguin Moreau. Since then, he almost exclusively uses those barrels so a very healthy relationship matured out of an act of kindness from a friend.  I could have that story completely wrong so feel free to correct me if you know better.
This was the first instance of what was termed Garage Wine in the region. It was literally made in a garage. In the beer world, we would call that craft beer so is this craft wine? Jean-Luc gained the reputation as the bad boy of Saint-Émilion and that name is reflected in his Bad Boy wines.
In 1995, respected and well known wine critic Robert Parker scored Valandraud higher than  Château Pétrus. This had an immediate impact on the price of the wine with prices jumping to over €90 in 1997. The 2005 vintage was €165 and I got to taste a little of that one at the tasting.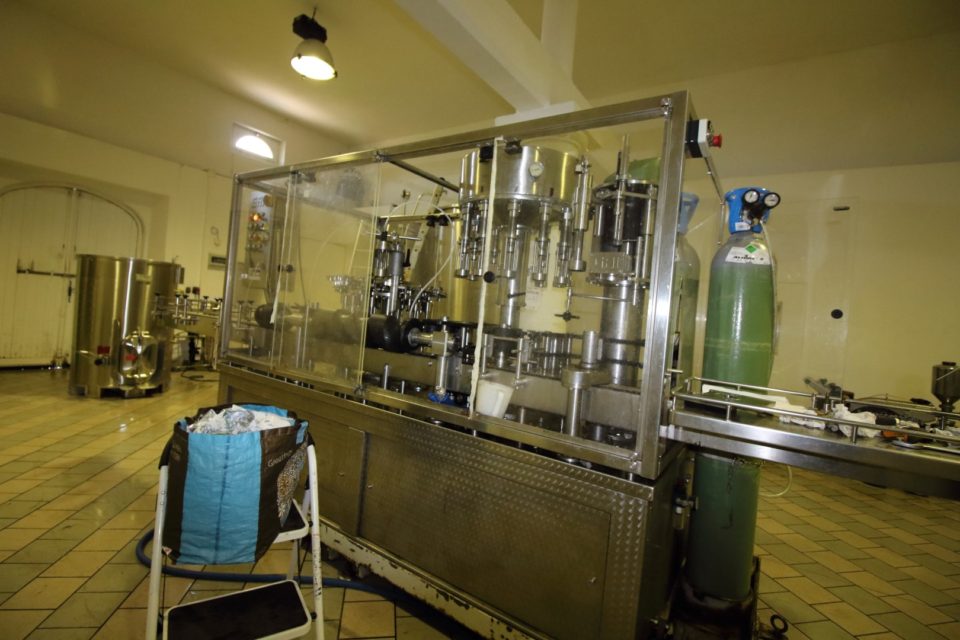 The obligatory bottling line. It doesn't matter if it's a brewery or it seems a winery that I visit. The bottling line is presented with puffed out chests and a lot of pride. We also learned that they produce kosher wine. The visiting Rabbis concentrate it after fermentation and from that point on, only they can touch it and they visit to keep an eye on it. Looking at the prices of this very limited batch, they are very expensive to buy.
The tour seemed mostly over and just the tasting left but it wasn't that simple as the tasting turned out to be in Saint-Émilion itself. Rather than follow Lorraine in our car, we asked could she give us a lift and we would make our own way back and she agreed. She was also impressed that we chose to do that and be responsible rather than drink and drive. While France has the same alcohol limits as Ireland, in the wine regions, the police seem to be a lot more reluctant to intervene. Apparently the mayor and some of the higher ups have their own vineyards. It wouldn't go down very well if they had random breath tests in the region. Anyway, we got a lift in and did the wine tasting. We then bought 3 of each of the wines we liked but could actually afford. If I decide to start writing about wine I'll try to include them.
After that, we walked around Saint-Émilion, had lunch and eventually walked the 6.2km back to Château Valandraud for some wine and hot tub time. It was the second most relaxing part of our holiday. I even got a little astro-photography time that evening.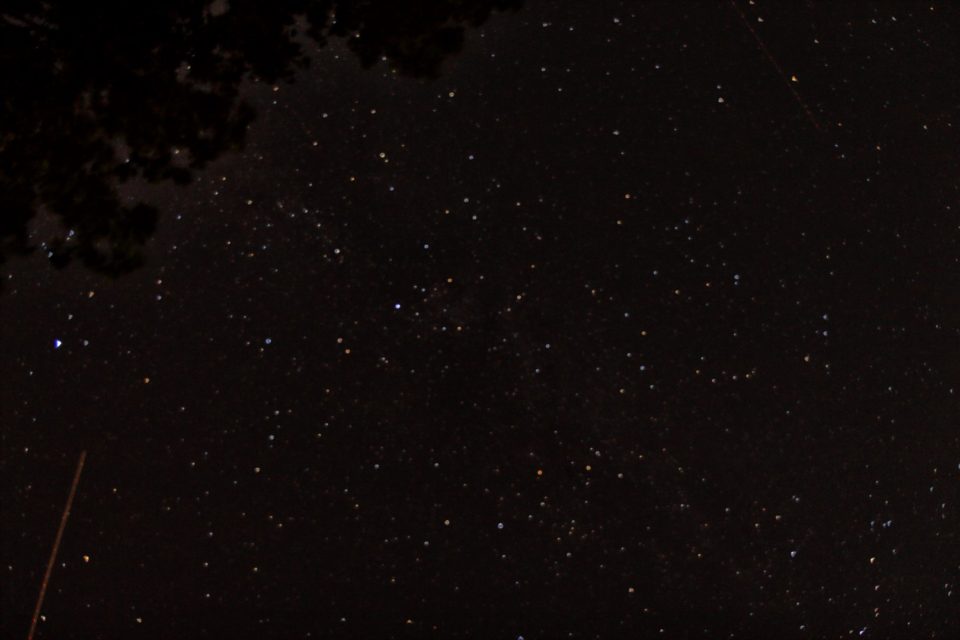 The most relaxing time would come next in Cognac. I'll write about that in a few days. Thanks for reading.