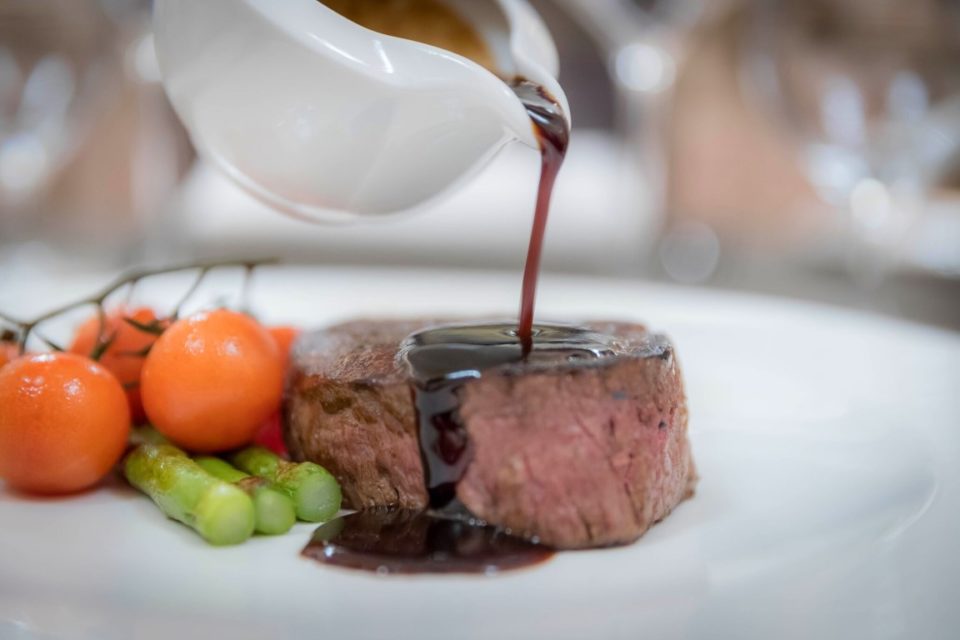 I was kindly invited along to the launch of the new Morelands Grill on Westmoreland street. It's actually beside/part of the Westin hotel but also serves as its own entity rather than simply being another hotel restaurant. It has its own separate entrance which highlights that point.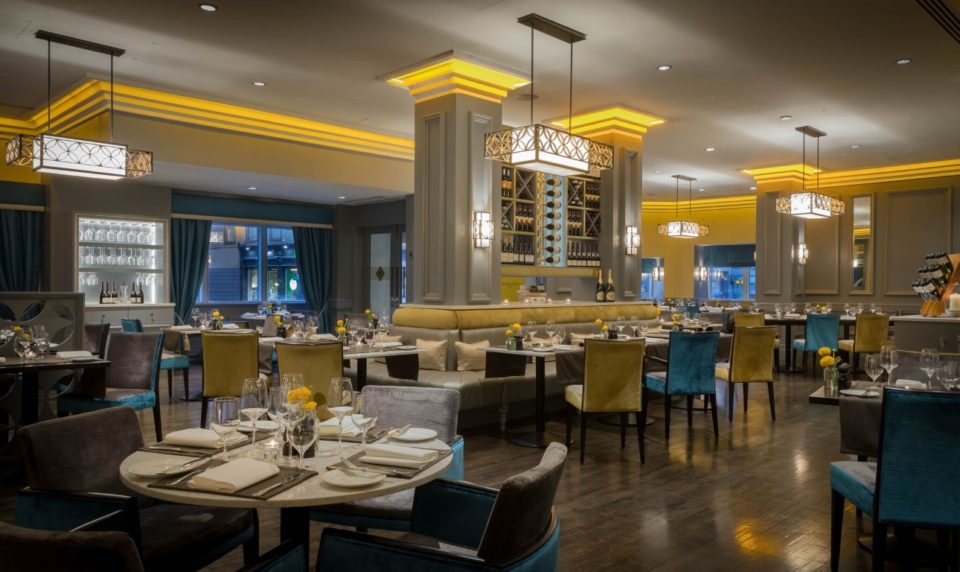 Inside is tastefully decorated but since I was at the launch where all of the seating was in use when I arrived, I spent my time standing. The first two images are media images from the press release to help highlight the food and interior.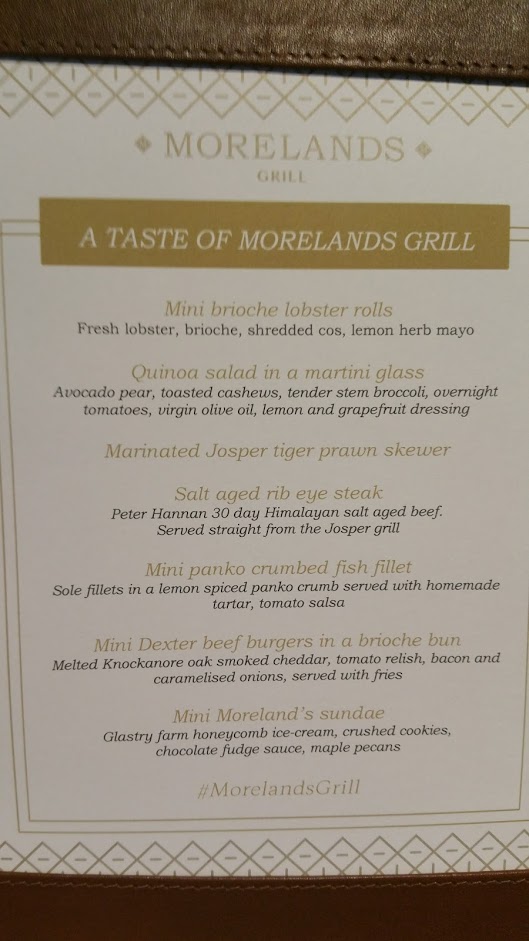 The highlight of the restaurant is the Spanish style josper grill, yeah I had to google it. Apparently it's some kind of indoor BBQ which is like a combination of an oven and a grill. It chars meat at up to 500c which apparently encloses all of the flavour. The end result is a mouth watering experience, or so all of the spiel says. It looks like the Morisson hotel also has a josper. Above you will see the menu of small bites that were floating around. I had the tiger prawn skewer, salt aged steak and mini burger along with the sundae. All were delicious but the steak blew both myself and Pauline away.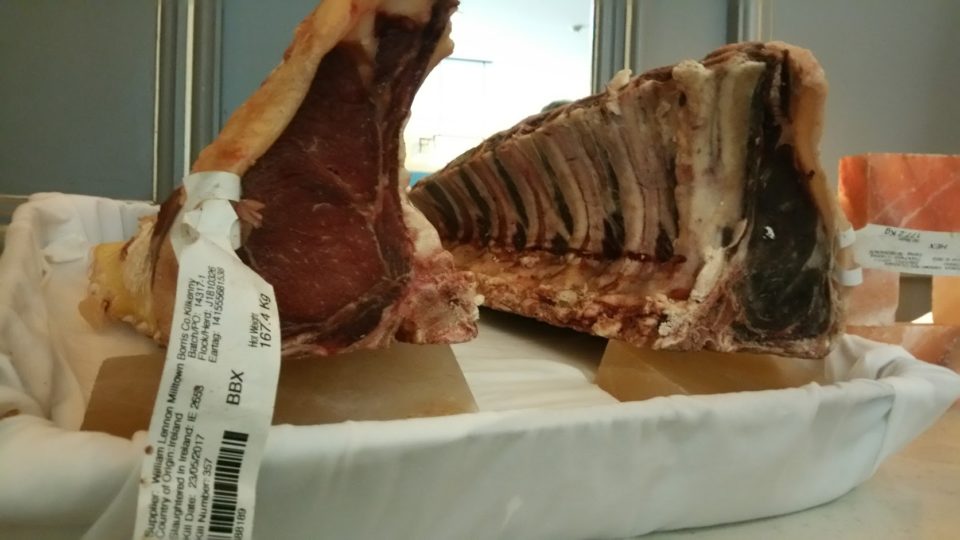 It's rib eye that has been aged for 30 days on Himalayan salt. The salt removes the excess water and allows the enzymes to do their work and break down the tissue. The result is usually expensive but juicy and delicious.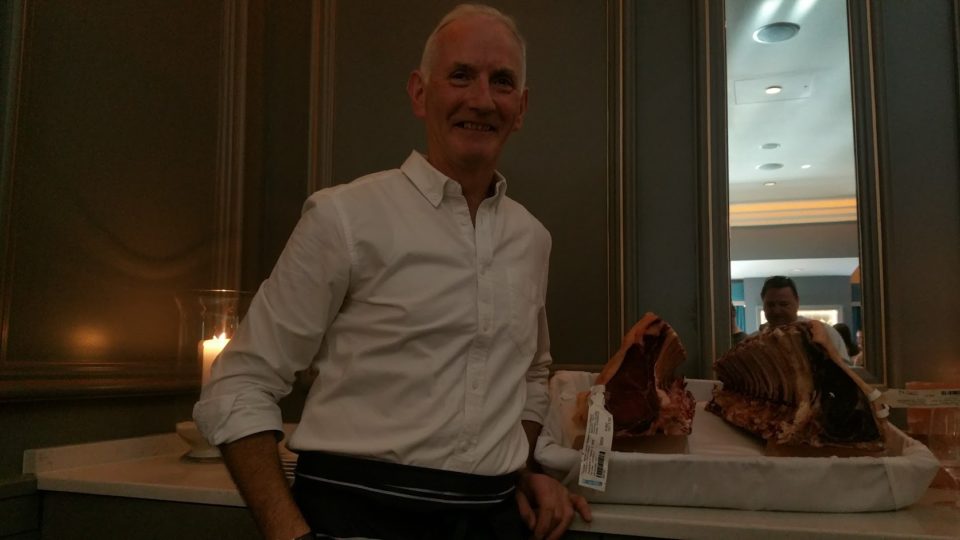 The steak is sourced from McLoughlins Butchers in Ballyfermot, an award winning butchers since 1965. They in turn source it from Peter Hannan in Northern Ireland. Pat was there himself explaining the ageing process that Peter uses but rather than relay it third hand, here's a link to their website which seems to explain the process.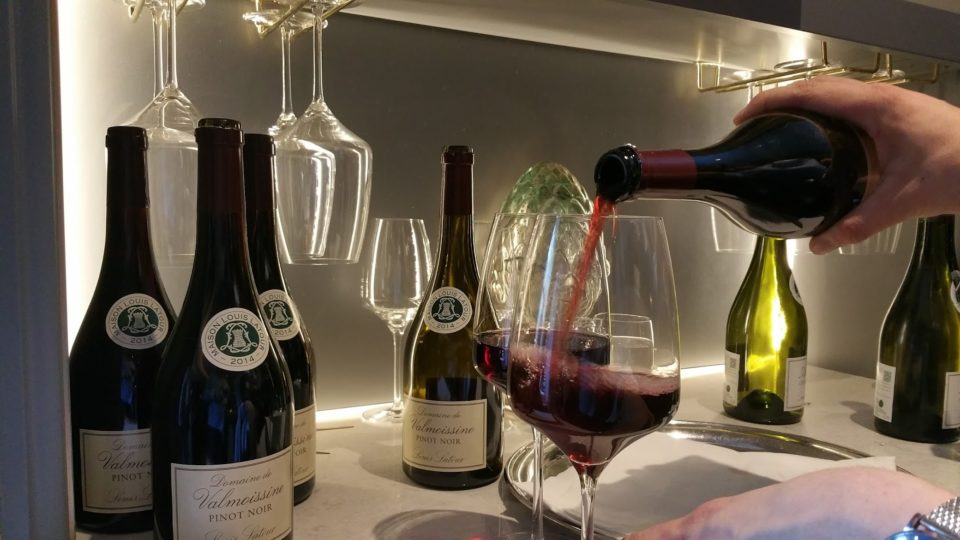 There's an excellent wine menu available and we were treated to a couple. The red was Domaine de Valmoissine Pinot Noir which according to their menu is €43.50 per bottle. It was a bit on the fruity side for my taste. They also served a decent Chardonnay which seems to be €39 per bottle. Both of these wines came under the brand of Louis Latour. They were also doing gin cocktails but I didn't venture over to get any as I was happy with the wine choice. I didn't come across any beer options which is a pity. As far as I'm concerned, any restaurant that's not promoting beer to match their food is missing out but I'll gloss over that since this is a pretty much beer free blog. If you want to read my thoughts on beer, go to taleofale.com
Now, something to add here. Since we were only getting small bites, essentially samples of items on their full menu, we didn't feel like we had eaten a good dinner so we left and headed to Marco Pierre White's for some, you guessed it, salt aged rib eye steak. Marco's steak was delicious but we both agreed that it actually wasn't as good as the small pieces we were served at Morelands so we definitely want to go back there and try a full dinner as that steak was just amazing.