Ahead of the Michelin guide release for 2018 tomorrow, I wanted to write about one of Dublin's finest restaurants, and arguably one of the best known. l'Ecrivain is the restaurant owned by celebrity chef team, Derry and Sallyanne Clarke. The restaurant opened in 1989 and in 2003 it gained a Michelin star, at least as far as I can tell. Either way, l'Ecrivain has been a feature of the Dublin dining scene since I was in primary school so they know what they're doing.
Being a fine dining restaurant, I didn't feel it appropriate to be snapping pictures on either of my two visits there with one exception. I took a picture of my tasting menu last year so I could recall what I was eating. The good thing about l'Ecrivain is that there seems to be an ever present deal available on certain deal websites. I made use of one such voucher in April last year and took my now fiancé to dinner.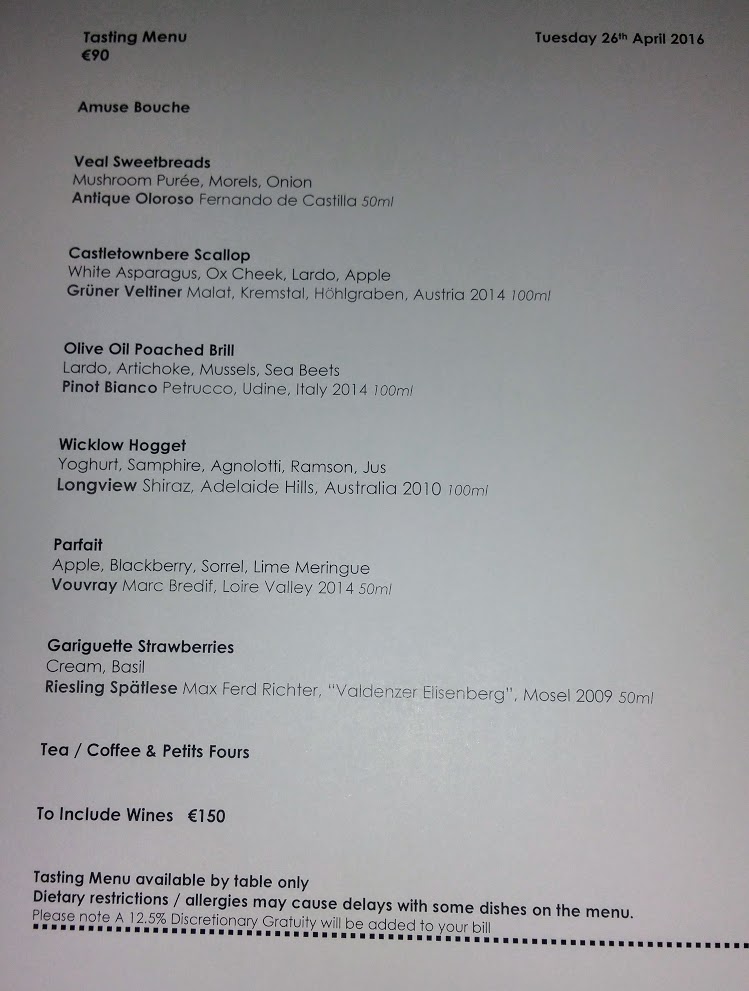 The tasting menu above is what I had last year and it was delicious in almost every way. It was my first time in a Michelin star restaurant at the time and the attention to detail by the staff was clinical. Without being obtrusive, they were there every time a glass needed filling or if I left crumbs on the table, they were there to clear it up. Everything from the food  to the service was clinical.
Both myself and my fiancé then won gift vouchers for l'Ecrivain a few months ago which totalled €300 so we decided to bring her sister and fiancé for dinner on Tuesday gone. It was the first time meeting my future brother in law and we had a great time. On this occasion, we opted for the regular seasonal menu and it's a shame I didn't take a picture of it. While the tasting menu is €90, the regular dinner menu is only €75 and to be honest, it was actually far superior. This worked out because the €300 voucher would cover our 4 dinners in terms of food so all we would need to pay for is drinks.
To start, I ordered a lobster risotto. Now, I don't actually like lobster very much. I find the meat too sweet for my palate but I do like risotto so I gave it a chance. I'm glad I did because it was outstanding in every way.
For my main course, I bucked the steak trend everyone else went with and ordered the Sika deer. It was melt in the mouth perfection. Of course I tasted the steak which was also fantastic but this was without doubt, the most tender deer I've ever had.
My dessert was a cheese board which I paired with the leftovers of my Paddy Borthwick Pinot Noir and then a bottle of Westmalle Dubbel and Lagavulin 16 year Scotch. It was the perfect end to a perfect evening. It's also worth noting that in between courses, we were given little palate cleansing dishes. One was a steamed oyster which was lovely, then there was some kind of raspberry sorbet and at the start, there was an amuse bouche which I don't recall I'm afraid.
One thing I did notice, and perhaps it was just me, is the service. It wasn't as clinical as last year. There were delays this time. Now, we are not talking the sort of delays I would unfortunately expect from the average Irish restaurant, merely that they weren't quite as on the ball as my first experience. They even served the wrong starters between the sisters. No big deal of course, it was rectified after a few moments but perhaps that's the kind of thing that could potentially lose you a Michelin star?
To be clear, the service was exemplary both times, it was just slightly less so on Tuesday.
Overall, l'Ecrivain is a fantastic restaurant in Dublin and one that is worth the odd visit, especially if you manage to get a meal deal or are lucky enough to win a gift voucher.