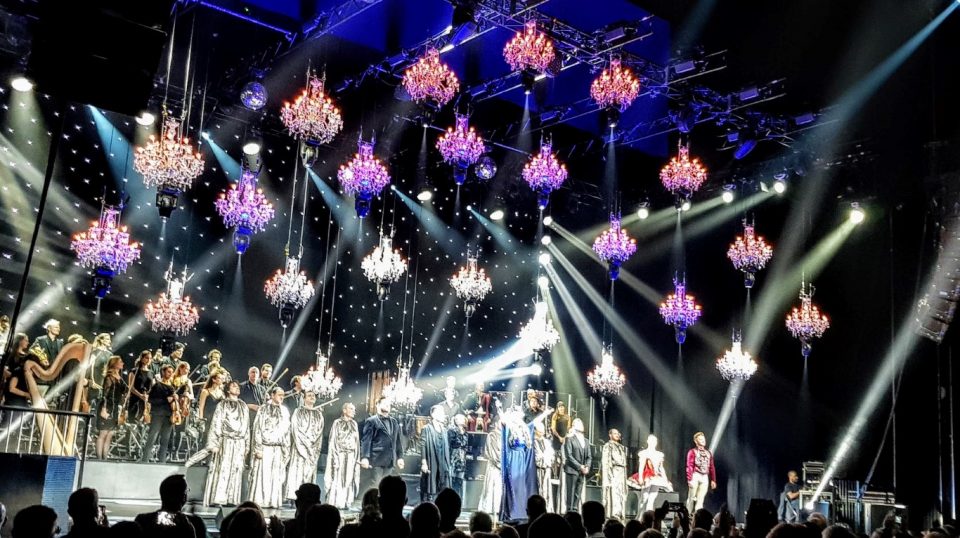 I have been a fan of Sarah Brightman for many years. Probably from the time she released the single Time to say Goodbye with Andrea Bocelli back in 1996. I then bought her album Timeless followed by Eden and La Luna as well as the Andrew Lloyd Webber Collection. I fell in love with the music of Phantom of the Opera, so much so that I brought my partner to see it in London last year for her birthday since she also loves it. We are since engaged by the way, just saying.
For Christmas, she returned the gesture by bringing me to Hamburg to see Sarah Brightman and her Royal Christmas Gala. It took place on Sunday gone at the Mehr! Theater, Grossmarkt just outside the city centre.
The Venue
The Mehr! Theater is about a 20 minute walk from the central train station or a short bus or train journey. It's in an industrial area and is simply located inside one section of an old market building. It's the largest capacity theatre in Hamburg but I didn't feel it was well laid out. The main issue is that immediately upon entering, you are essentially forced to queue for the cloakroom where they charge €2 per item. It's bad enough when entering but it takes about 20 minutes of aimless queuing to retrieve your items with no real queuing system in place. The other problem was that once we headed in to the theatre, Pauline was stopped and told her luggage was too big! Her luggage was her handbag which wasn't large and would have sat on her lap. No amount of arguing would allow her in with it so she had to pay another €2 and remove all valuables. It was as if Ryanair were running the place. The fact that you had to also queue at the bar upon leaving to retrieve your deposit for your glass also added to the insult.
The seating itself was comfortable and wasn't cramped but it is all flat which means if someone tall is sitting in front, you can't see the stage since the stage is quite low down. It's also pretty industrial inside e so perhaps doesn't have the best acoustics.
The Show
The first half of the show starts with Gregorian doing monk like chanting with a modern twist. At one point, a girl in black came out looking a bit like Sarah but it certainly wasn't her. She was dressed like Maleficent. At no point during the entire show was she credited anywhere, all the other artists were introduced and had their names on stage. This girl came out a few more times during the show. You can see her in the right of the official image above. It took some Google detective work but it turns out that it's Amelia Brightman, Sarah's younger sister. She's the same age as myself, born in 1979 and is a regular with Gregorian it would seem. Perhaps she needed no introduction and it was just my ignorance but I still thought it was a little weird she wasn't named.
There are also two tenors, Mario Frangoulis and Fernando Varela. Both were excellent and different. Mario brought a mix of musical performance that could have come from Broadway or London's West End. Fernando brought a more contemporary pop twist before breaking in to a wonderful rendition of Nessun Dorma. And then there's Narcis who has the voice of an angel. It's even higher pitched than a choirboy such as the kid (Peter Auty) who sang in "The Snowman" animated movie which incidental was part of the show and performed by Gregorian. It's not Christmas to me without watching The Snowman or at the very least, listening to it.
There were a couple of ballet dancers performing The Nutcracker Suite which was grand but I've never been in to ballet beyond the music itself. There was also an amazing 14 year old harpist who came out to perform a solo.
After the interval, Sarah came on stage. If the first half was excellent, the second was magical. Apart from a mix of Christmas songs, Sarah sang some of her hits like Pie Jesu which was written for her to sing by Andrew Lloyd Webber as well as Nella Fantasia. The hightlight for me of course was when she did the theme to Phantom which was kicked off by Gregorian and Mario sang the part of Erik, The Phantom. She also of course sang Time to say Goodbye. I had hoped she would have brought Fernando out to sing that one with her as he had the perfect voice for it but alas, she did it solo. That ended the main part of the show until the inevitable encore a few minutes later.
The show was amazing and Sarah's voice is still amazing after all this time. You haven't lived until you hear Gregorian singing Fairytale of New York, chanting monk style. we found that bit hilarious, though perhaps we shouldn't have.
I would say that the production in this particular theatre seemed lacking compared to the videos I have seen elsewhere. There were no amazing backdrops like you see in the promo video on the official website or here. I put that down to a failing of the venue itself though rather than the show. Walking out of the theatre and into the snow made for a magical Christmas experience where we quickly jumped on a bus back towards the train station before heading to the Paulaner Miraculum bar next to our hotel for a few pints of Zwickel bier before bed.