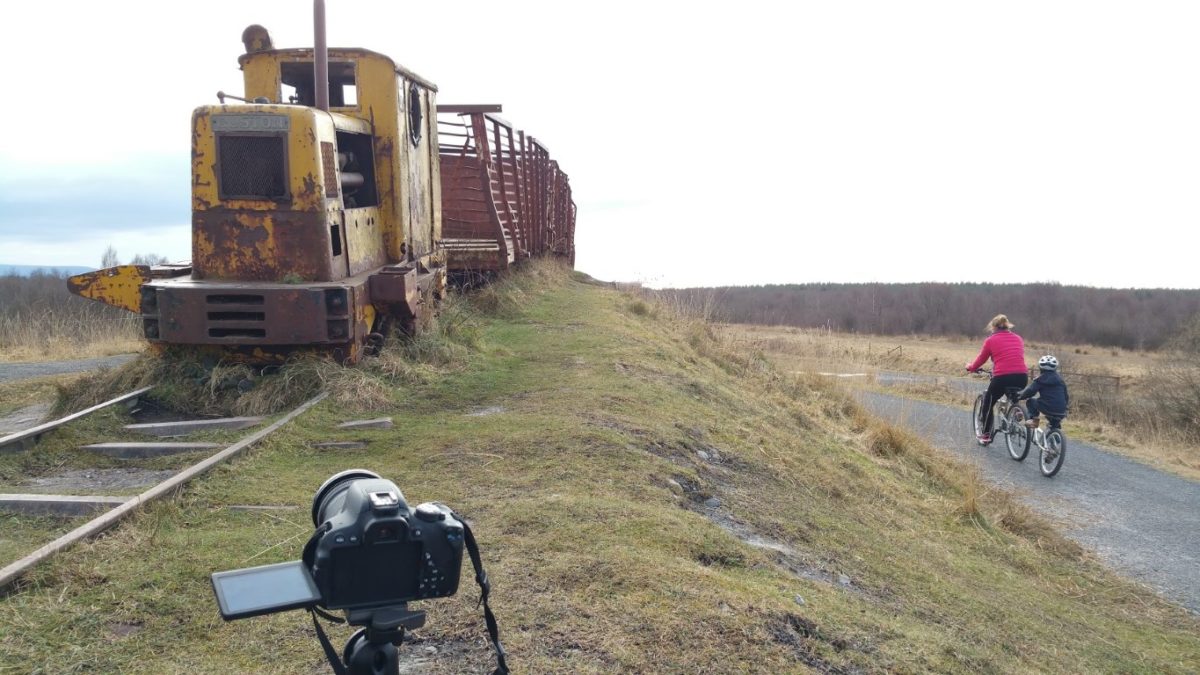 I have been on Flickr for years but only in the last year have I really tried to make use of it for proper photography rather than just somewhere to store snaps. Their excellent free 1TB of storage is amazing although it doesn't replace a good cloud drive for backups of RAW files as Flickr only stores JPEG files. If I can digress a moment, Mega offers a free 50GB. I signed up recently to store newer RAW files. Of course RAW files are massive so that 50GB is nearly half way gone already but it will do for now.
Last weekend, I headed to Lough Boora to take some photos. The weather was cold and overcast with sunny spells which made for some interesting cloud formations. I took over 100 images over the course of about three hours. I wanted to experiment again with long exposures using my ND1000 filter as well as just find some interesting scenes. I didn't stray too far though due to time as I had to get back home to watch the Ireland vs Italy Rugby match at 2:30 so I stuck to the sculpture trail. This is where they have placed a number of pieces of art/sculptures around the place.
One of them is called the Sky Train. It's an old train used for transporting peat and it has been raised up with a bit of an arc. I first saw images of this on Flickr and I wanted to try and get some good shots of it myself.
One of my images went nuts on Flickr. My phone battery practically died from all the notifications of people favouriting it. Ordinarily, I might get between zero and 5 favourites but this was insane. And it wasn't just favourites either. There were comments and adding to galleries/groups.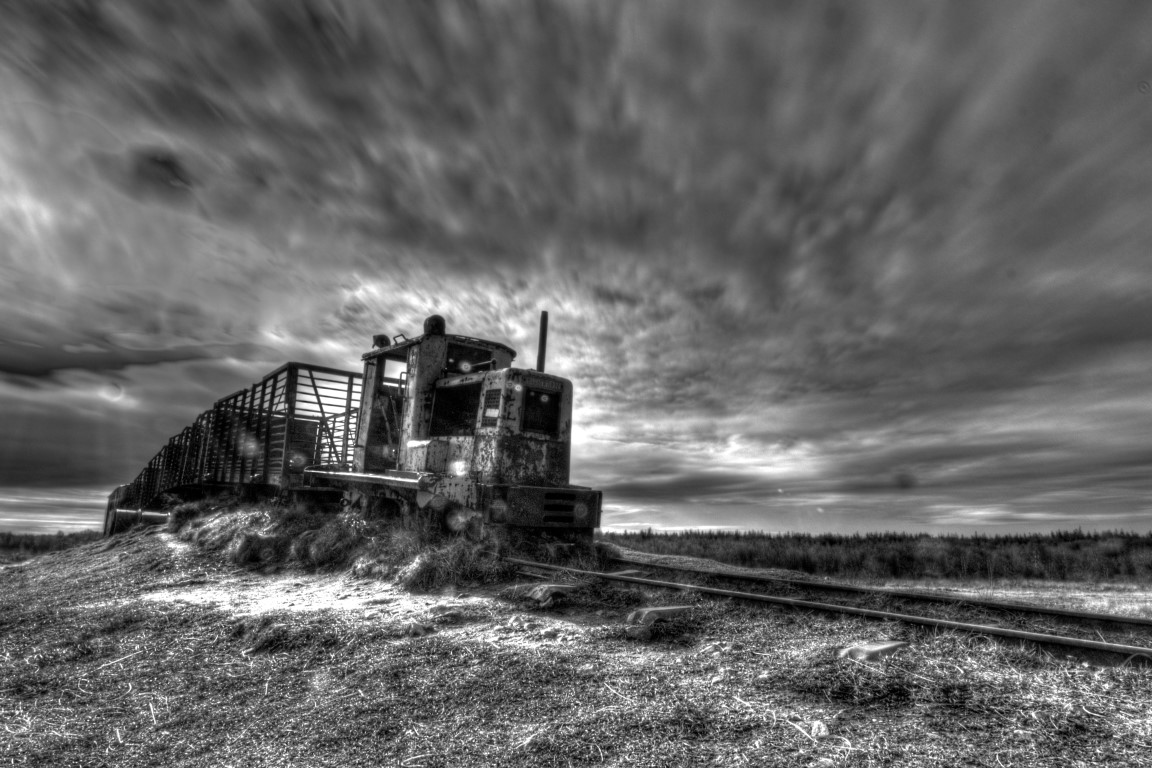 This is the image that caused all of the fuss and for no real reason. I uploaded 4 images at the same time and added them to an album called Lough Boora. This is the one that people latched on to.
It has had about 4800 views with 280 faves and 15 comments. It also won a Monochrome Guru Award and was added to their group as well as a number of other groups that I'm not a member of. As far as I can tell, this image ended up in Flickr's Explore pool and as a result was added to a closed group called In Explore which only shows images from Explore.
The image itself was taken with my ND1000 filter attached to my EF-S10-18mm lens at 10mm with an ISO of 100 and comprised of 5 shots at varying shutter speeds between 10 and 30 seconds. These RAW images were then processed in Digital Photo Professional (comes with Canon) and exported to TIFF. I then merged them with Photomatrix Pro to make it HDR and convert to B&W. I then saved the resulting image and brought it in to photoshop to adjust the levels to what I wanted. There's some overexposed grass which I left. I did try darkening it but it took away from the image. I think the overexposed grass combines with the light behind the train to highlight and frame it so it works better. I cropped the image to take a signpost out of view.
The image has a slightly fuzzy, dreamy look known as the Orton Effect. I like the image so I ordered it on a large canvas. Hopefully it comes out well.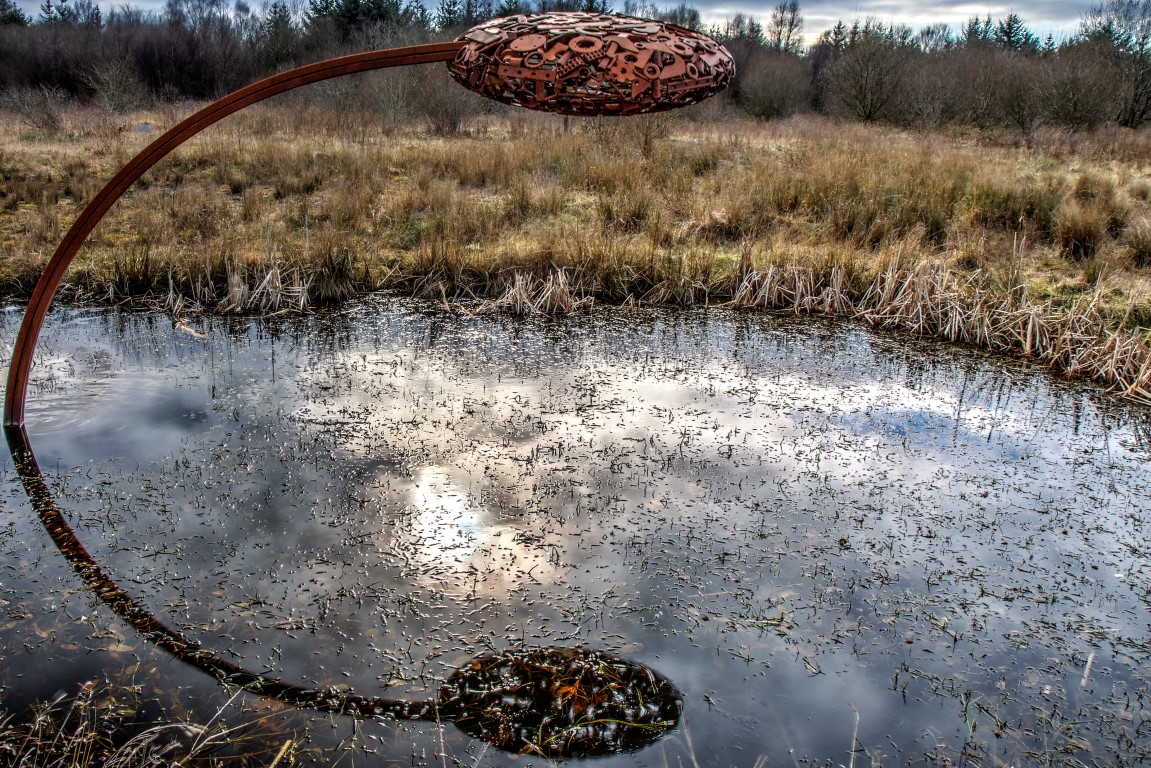 This one is called System 30, a long metal sculpture like a serpent. This particular crop looks like a pair of headphones. In fact if you click here, you will see the same image rotated clockwise so it's a sideways view of the river but it shows the headphones better.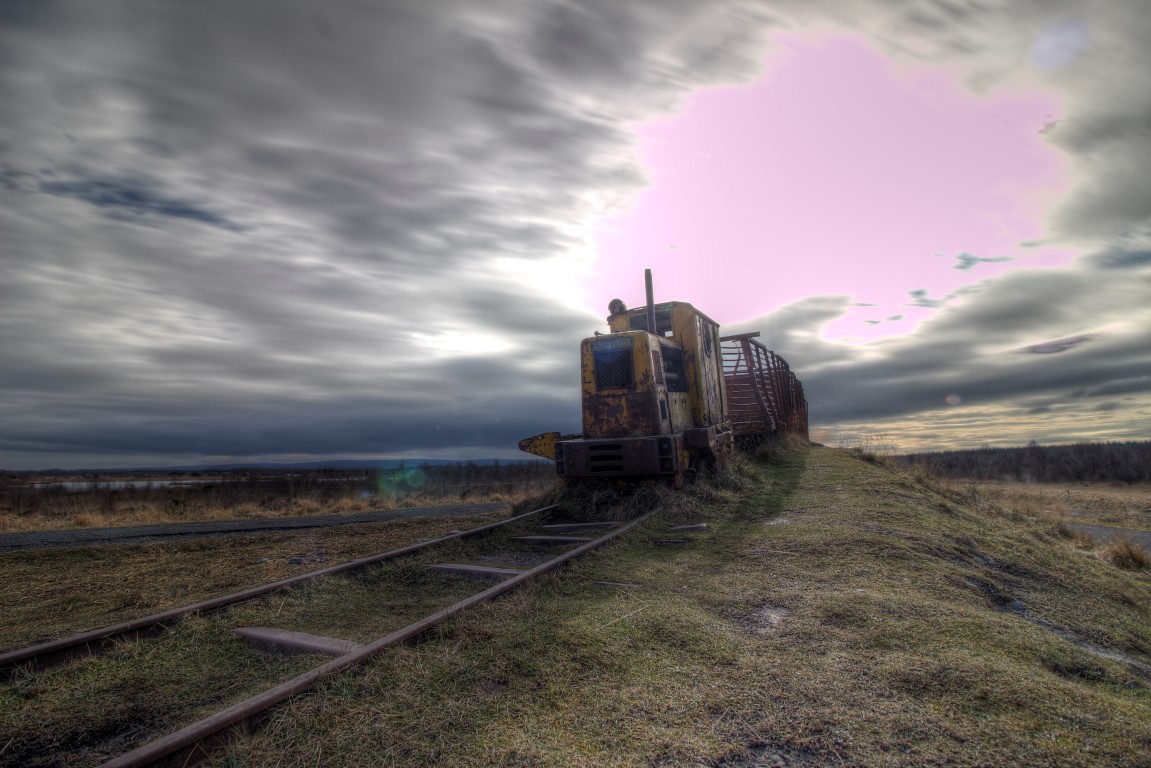 This is the same train from the other side and in colour. The process was similar to the first one except in colour and there were only three exposures. This time the camera was facing the sun so there's a massive patch of overexposed sky unfortunately. The image at the top showing my camera in front of the train was taken during one of the exposures. The only alteration to the scene was during one of the exposures, a pair of cyclists had appeared and they took pictures of each other in front of the train. this resulted in a blurry ghost on the left hand side. I used photoshop to remove it.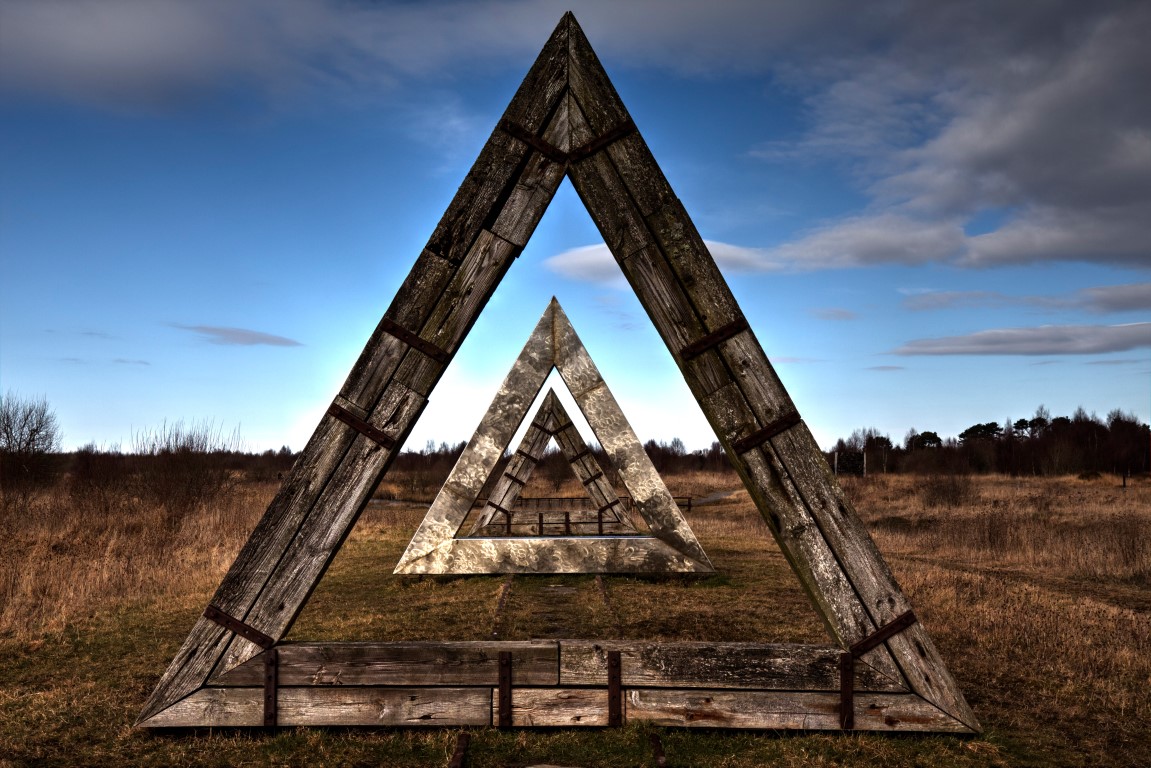 These triangles in descending size are pretty interesting but I didn't get any interesting shots I'm afraid. This is the best of the lot so I uploaded it.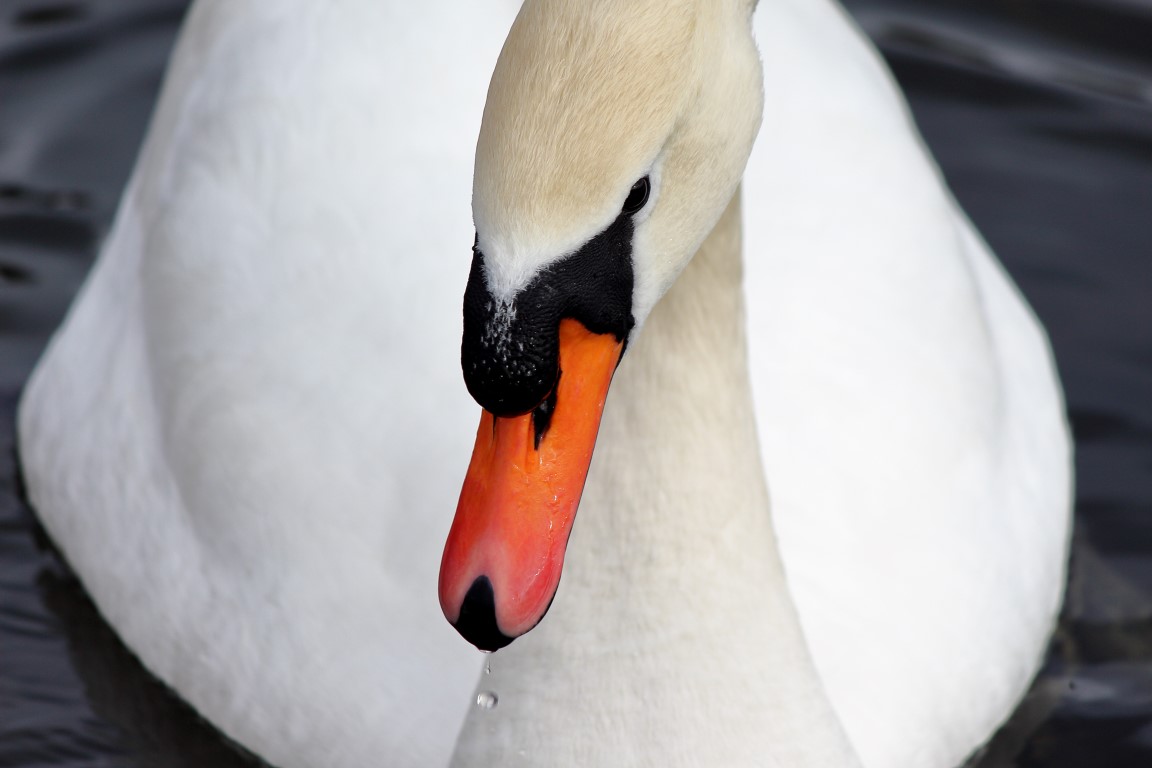 There are swans in the lakes and I was hoping to catch them taking off or landing. Alas I didn't capture it but I could hear the feckers. If I was at one lake, I could hear them flapping their great wings and slapping the water with their feet at the other lake. I think they were teasing me. I took a load of swan photos but this one was the most interesting as a droplet of water was falling from his mouth.
My catalogue of images is expanding and candidates for my L panel are starting to appear. At least I had one day where I was winning at Flickr though. It was a nice feeling.