Here's the situation I find myself in. In late 2004/early 2005 I was ready to buy a house but the prices in Dublin were crazy. €200,000 was my absolute limit for a mortgage so my choice was either buy somewhere in Dublin that I wouldn't want to live, in a mid-terraced house I would hate or else buy outside of Dublin for the same price but get a nicer detached house.
The House
I selected a detached bungalow in Rochfortbridge, county Westmeath. It's a sleepy little village at the edge of the commuter belt and was on the N6, the main Dublin to Galway road. I knew that a motorway was being built all the way from Dublin to Galway and that within a few years, it would be available as far as Athlone so Rochfortbridge would be bypassed and have its own motorway exit. I put up with the old road and its traffic for years. First, the motorway opened up as far as Kinnegad with Rochfortbridge about 10 minutes away on the old road and then the next section opened up so commuting back and forth between Dublin and Rochfortbridge only took 35 minutes to Liffey Valley/M50. I was commuting to Ballycoolin/Blanchardstown in under an hour. My commute was actually shorter than those living on the south side of Dublin at the time. That changed in their favour when the M50 upgrade completed and the toll booth removed but still, it's a pretty good commute time.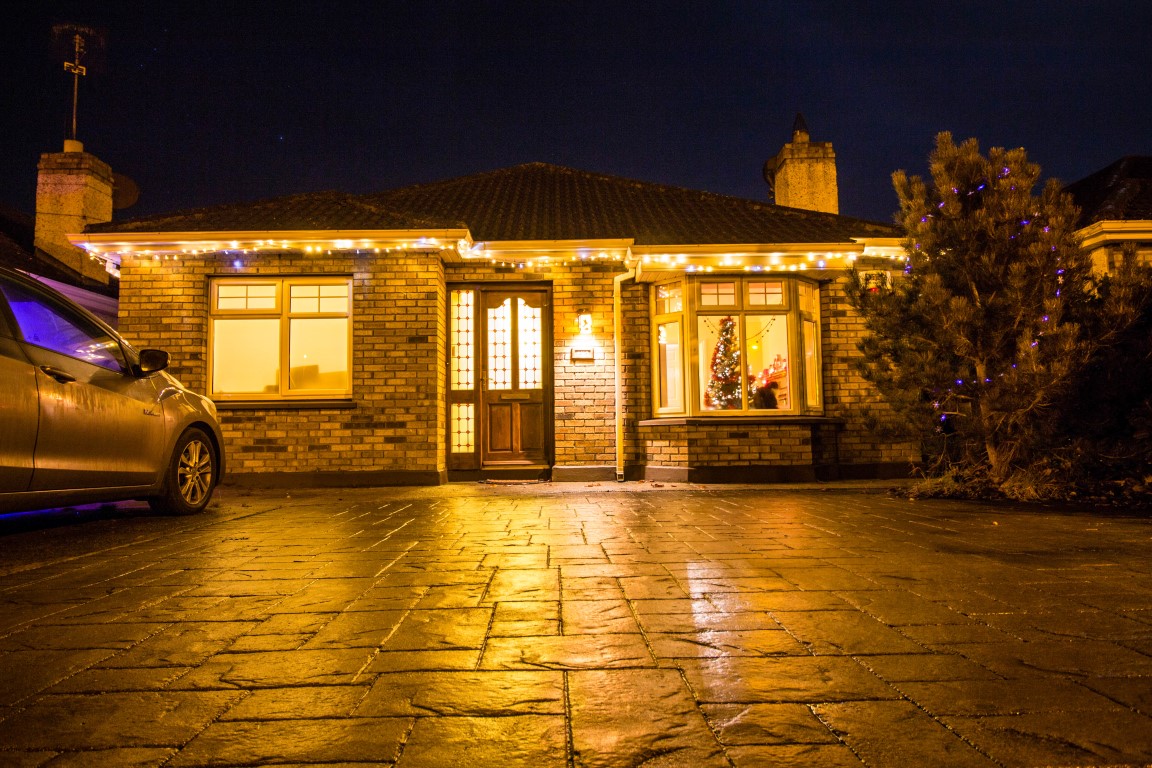 The house itself is a 3 bedroom, detached bungalow that cost €190k in 2005.  I got the keys in June and immediately started upgrading the floors etc. Over the past year and a half, my personal circumstances have changed and it's time to sell and move back to Dublin. House prices are on the rise all over the country and it's only in the last year that house prices in Rochfortbridge have reached a level that I can consider selling to at least break even on the remaining mortgage and if lucky, make a little money for a future house deposit. It may have cost €190k but I doubt it will get up to that value again, at least not for a couple of years and I'm selling now.
Here's a link to my house ad on daft.
Selling a house
In Ireland, if you want to sell a house you normally enlist the services of an estate agent. What many people don't realise is that you don't actually have to. Your solicitor does all of the important stuff so all the estate agent really does is advertise and act as a 3rd party intermediately between you, the buyer and your solicitor. Is an estate agent worth it? Possibly they are if there's plenty of equity in the house but in my case, there isn't. If I can get away with the mortgage and solicitors fees covered, that would be a win. I don't want to be paying an estate agent a couple of thousand on top of that.
Selling it yourself
When I looked up how to sell yourself, I found a number of websites dedicated to just that. Unfortunately, they appear to be pretty useless. Signing up to one of these sites for €300 or so allows you to put an ad on their website and then they send you a sign to put in your garden. Those sites are rarely checked by anyone looking to buy a house.
The two big residential house sales platforms are myhome.ie and daft.ie
My research showed that myhome.ie was perhaps a little better for Dublin and daft.ie for everything else but usually daft.ie has more listings regardless. I can't use myhome.ie because it was set up by a group of estate agents and only takes listings from an established agency. Daft.ie on the other hand will list private sellers from €299 so I decided to do that. I don't get a stupid sign for the garden but I can probably get one made for less than €50 if I wish.
Some people might be put off by dealing directly with the home owner and would rather deal with a 3rd party and yet others would rather deal with the owner directly rather than a 3rd party who has no interest in the property other than extracting the highest price. I'm of course hoping for the latter.
An estate agent might sell the house quicker but I need to sell it at a price I'm happy with rather than as quickly as possible. Since I would probably be charged for listing on daft.ie anyway, I haven't lost out financially.
What about pictures and description?
One of the things that en estate agent does is send someone to take professional photos of your house and write up something to help sell it. The good thing here is that I'm a bit of an amateur photographer and I also enjoy writing so that's no problem for me. I have a decent DSLR and range of lenses needed. In fact, not all estate agents get professional photos taken. Some just take rubbish pictures on their phone or a cheap camera and even if they have a DSLR for appearances sake, they don't know how to use it and lack the correct lenses for the job.
House Valuation
One of the useful services that a real estate agent performs is to place a value on your home. They can do this better than the owner because often times, an owner uses emotion rather than reason when valuing their home. For me, it's easy to place a dispassionate value on my home.
First thing I did was check recent house sales. An identical house in the same estate sold for €147,000 in August. A semi detached house in the next estate sold for €153,000 around the same time. Since then, another identical house to mine has gone sale agreed. I don't know what the agreed price was but it's nowhere near as well finished as mine with an overgrown garden and a fireplace that was ripped out according to the pictures and more importantly, doesn't have a second building out the back.
Since I had a base of between €147k and €153k I settled in the middle and advertised at just below €150k. This will just about cover the mortgage and expenses if I get that much but I'm hoping the fact that the house has been completely repainted inside and the refurbished main bathroom in beautiful stone tiles and jacuzzi bath will help add value and that's before we even talk about the man cave out the back. The 3m by 6m concrete building is insulated and fully electric. It's suitable for use as a home office, hobby room, or workshop. I currently use it as a brewery and gym.
No one buys houses at Christmas
I wanted to get it up before Christmas despite Christmas being the quietest time in the market. Why? It's simple. No one is likely to buy a house at Christmas time but Christmas day and indeed the period between Christmas day and New Year's day will see that millions of people in the UK are looking at houses according to some articles like this one. It's basically window shopping with a view to buying in the new year. Christmas is a time of fantasy so it's not a great leap to assume that people will spend their days off fantasising about buying a new home.
Will it work? Or will I still need an estate agent?
Only time will tell on this one. My ad went live on daft.ie yesterday and it now has 550 views as well as some Facebook tags so I'm optimistic that I'll start getting calls in January. If I get nowhere by about the end of February, I can employ an estate agent if I feel the need.