On Monday, I headed along to the Searsons/Tindal Wine Tasting at the Marker Hotel. I was there last year too. It's great value at €15 and runs from 6pm until 9pm.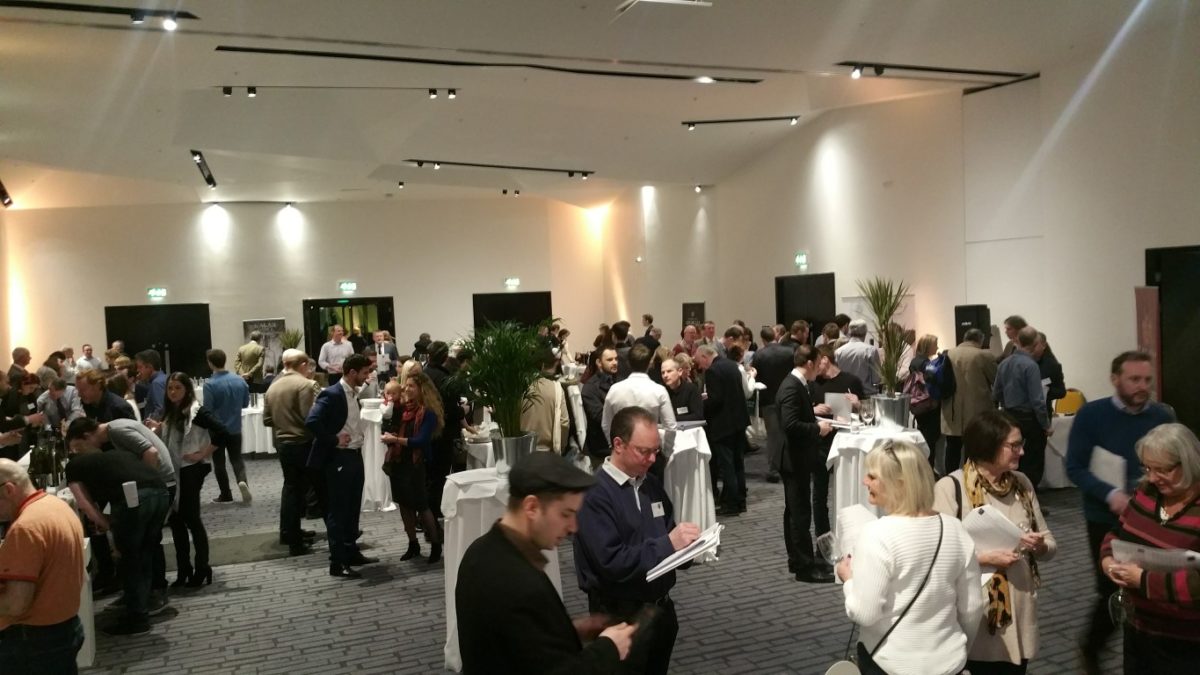 It wasn't quite as epic as last year in that the snacks (cheese, crackers, bread and meats) were not replenished. Last year, Dungarvan Brewing had a stand too. They left after about an hour and just left their beer on the table. Not too many people were going over to them at first but nearer the end of the evening, I think people were winding down so I jumped behind their desk to talk to people about the beer and serve generous samples in the water glasses.
It also seemed to lack as much choice but perhaps my memory of last year is somewhat clouded. It certainly didn't seem as busy as last year.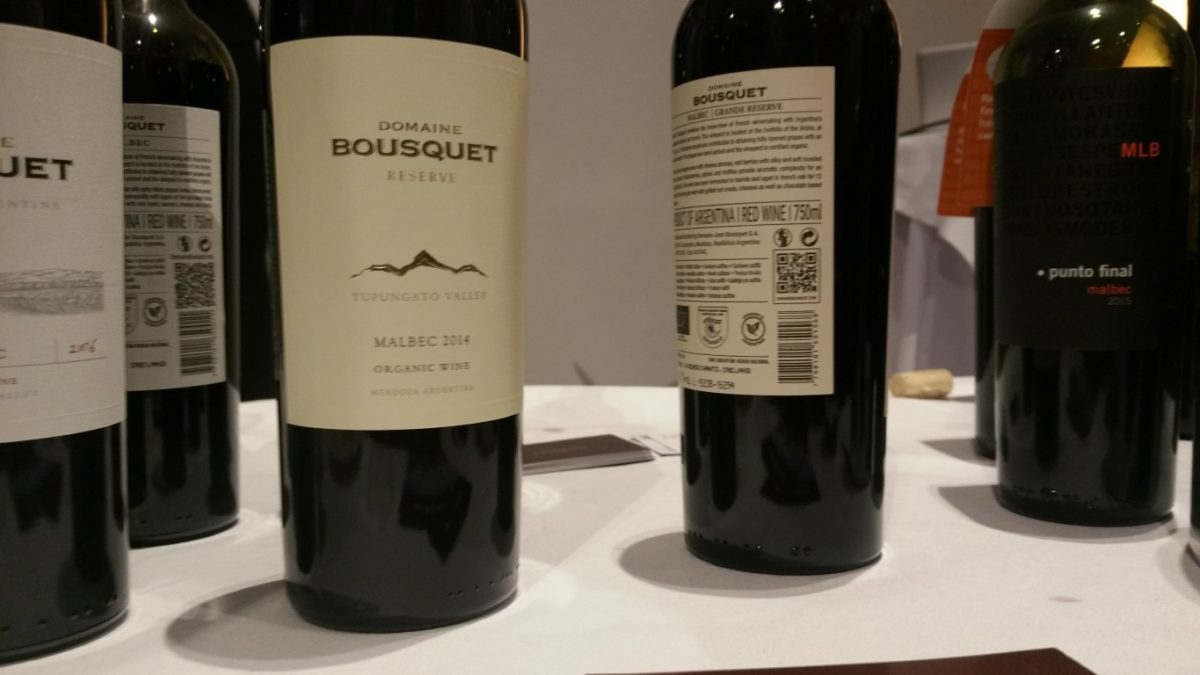 This year, there were apparently 35 wine producers from more than 40 regions with a total of about 120 wines. I didn't count to verify but there were 25 tables with an average of 6 wines per table. A few tables had 3 or 4 but many had more than 8 so it's possible there was a lot more than 120 different wines. There was also 3 other tables. One with Poacher's tonic water, one with Blackwater gin and one with Kalak vodka.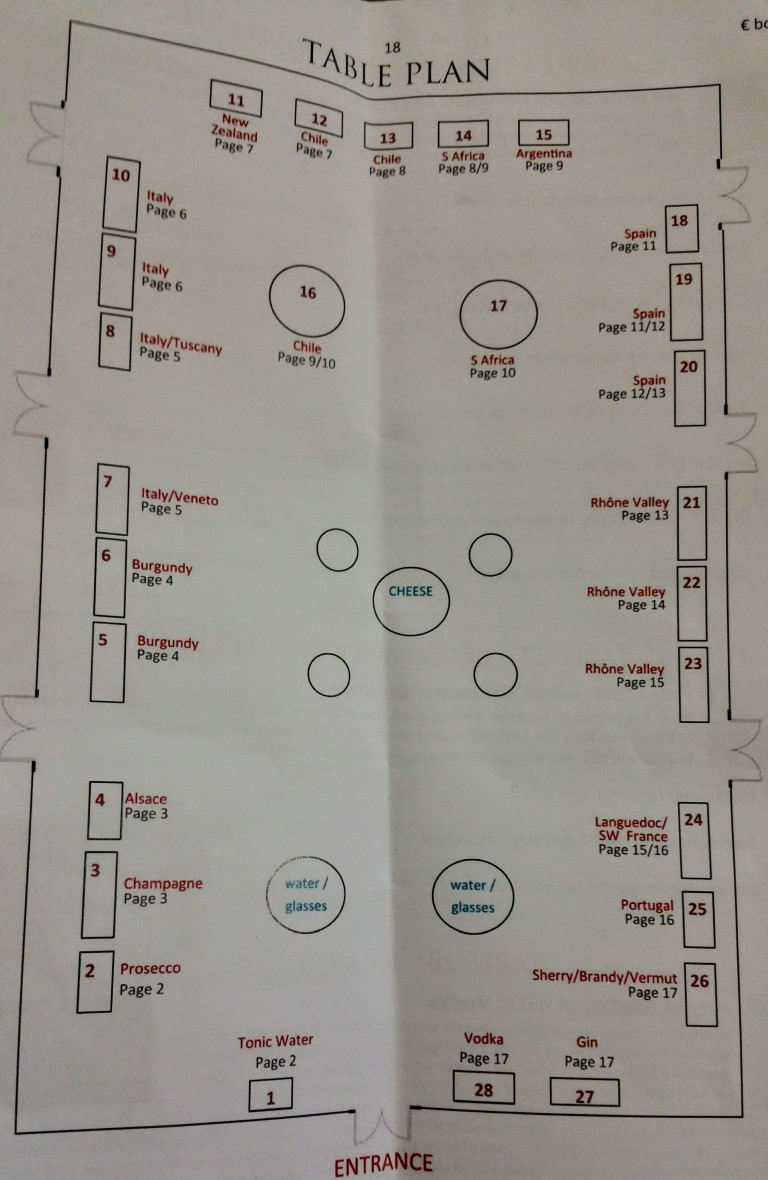 I skipped past tables 1-4 and started on tables 5 and 6, Burgundy. I had two wines there with an intention of getting back but time got away from me. The following log of wines is more for my personal records of what to look out for but if it helps anyone else pick something, that's great. Of course taste is subjective so these are only the wines that I enjoyed or didn't enjoy as the case may be.
2014 Mâcon Chardonnay from Clos de la Crochette, Domaine des Heritiers du Comte Lafon – €38.95 – Pretty good but not worth seeking out.
2014 Saint Aubin 1er Cru En Remilly, Hubert Lamy – €65 – A sharp citrus hit. Certainly not worth the spendy price tag.
Table 7 then was Italy, Veneto and the Zenato winery. I had three wines there.
2014 Volpolicella Superiore – €17.95 – Pretty good
2013 Ripassa Della Volpolicella Superiore – 25.95 – This was better and certainly worth keeping an eye out for.
2012 Anaribe della Volpolicella Classico – €52 – Very nice wine indeed. If you can afford it, go for it.
Table 8 was still Italy but this time the Tuscany region. I had three wines again but they weren't great. They were all from Badia a Coltibuono.
2014 Chianti Classico Organic – €26.95 – An ok wine but pretty bland and watery.
2011 Chianti Classico Riserva Organic – €42 – A much better wine as the price tag indicates. Heavy and strong.
2011 Sangioveto di Toscana Organic – €58 – It's grand but I wouldn't pay that much for it. Pretty average.
I skipped table 9 and moved on to Table 10 which was still Italy and the Vini Fantini winery.
2015 Luccarelli Primitivo Puglia IGP – €14.95 – a good dry red. Can't really go wrong with the price either.
Table 11 was New Zealand. I had 5 of the 6 wines available. I'll be heading to New Zealand in June so it would be rude not to do as much homework as I could. I do love New Zealand wine. This was all from the Craggy Range winery near Hastings. They have vineyards in three areas: Martinborough, Hawke's Bay and Marlborough.
2014 Te Muna Sauvignon Blanc, Martinborough – €23.95 – A very fruity wine. Very nice actually.
2013 Kidnappers' Chardonnay, Hawkes Bay – €27.95 – Pretty good but I prefer the first one.
2011 Gimblett Gravels Te Kahu, Hawkes Bay – €28.95 – Pretty nice indeed.
2013 Gimblett Gravels Syrah, Hawkes Bay – €34 – fruity and very drinkable. A very pleasant wine.
2012 Te Muna Pinot Noir, Martinborough – €39 – A dry but fruity with some sharp citrus. Pretty good.
Table 12 was Chile and the Emiliana organic vineyard. All of their wines seem to be €13.95
2016 Eco Organic Sauvignon Blanc, Casablanca Valley – €13.95 – Good and price is right too.
2016 Puna Snipe Family Reserve Sauvignon Blanc, Central Valley – €13.95 – Very nice and sharp.
Skipping on to Table 15 and Argentina with the Domaine Bousquet winery.
2016 Organic Malbec – €14.95 – Very nice, great with spicy chorizo.
2014 Organic Malbec Reserve – €19.95 – a little fruitier, not as interesting though and didn't work as well with the spicy meat I was eating.
2013 Organic Malbec Grand Reserve – €23.95 – Fully body and delicious. I have this marked as buy it.
Table 17 is South Africa with the Bouchard Finlayston vineyard. I had excellent 5 wines here.
2015 Walker Bay Sauvignon Blanc – €21.95 – Pretty good, fruity and citrusy.
2015 Crocodile's Lair, Kaaimansgat Chardonnay – €25.95 – This also got a buy it note. It also got a wow note so it must have been good.
2014 Missionville Chardonnay – €33.95 – A spendier version of the last one which might need ageing. Otherwise, it's excellent.
2013 Hannibal – €42.95 – acidic, ok.
2013 Galpin Peak Pinot Noir – €43.95 – Pretty good actually, I liked it a lot.
Table 18 was Spain and a table full of sweet wines. The only one I bothered to even note down was La Báscula, The Charge, Rioja – €16.95 and my note says too fruity. I moved on to the next table which was also Spain. This was the Tomàs Cusiné winery. Carlos Mora was doing the tasting and was excellent. I had every single one of his six wines.
2015 Auzells, Costers del Segre – €19.95 – Very sweet, almost a dessert wine. Not my thing but Pauline likes it. Buy it is marked down.
2014 Drac Magic, DO Catalunya – €16.95 – Dry but fruity, I liked it but Pauline didn't.
2014 Llebre, Costers del Segre – €18.50 – Lots of fruit, slightly acidic. Pauline loved it.
2014 Vilosell, Costers del Segre – €19.95 – Sharp but lots of fruit. I like it.
2013 Geol, Costers del Segre – €27.95 – Meaty, strong, I love it.
Table 20 is still Spain and the Luis Cañas vineyard. Iñaki Cámara was brilliant in his presentation.
2016 Rioja Blanco – €18.95 – I've never had a white Rioja before. It was pretty good.
2013 Rioja Crianza – €19.95 – Little like Sangria.
2011 Rioja Reserva – €24.95 – Love it. Meaty and big.
2010 Rioja Reserva Familia – €29.95 – Dry but big fruit, love it and buy it.
2010 Angeles de Amaren, Rioja – €32 – Fruity and decent.
2012 Amaren, Rioja – €46.95 – Super meaty, big flavours, oaky. Love it.
Table 20 is the last of Spain and the Cair vineyard which was also represented by Luis Cañas.
2014 Dominio de Cair Cuvee, Ribera del Duero – €20.95 – Acidic, very like it. Pretty different to the other brand.
2012 Crianza – €29.95 – drier and more acidic than the former but pretty good.
Table 22 is the Rhone Valley. The only vineyard I got to was Domaine Boisson.
2015 Côtes du Rhône – €14.95 – Nice but a little odd with marzipan notes. Not much going on.
2014 Villages Cairanne – €19.95 – Nice and fruity
20111 Clos de La Brussière – €21.95 – Seriously good, buy it.
Table 24 is the Languedoc region shared by Château D'Anglès and Jean-Luc Baldès.
2013 La Clape Classique Red, Château D'Anglès – €18.95 – Pretty fruity, slightly acidic. I like it.
2012 La Clape Grand Vin red, Château D'Anglès – €25.95 – Meaty strong and robust. Worth a look.
2012 Malbec du Clos AOC Cahors, Jean-Luc Baldès – €16.95 – 100% malbec, slightly acidic and pretty nice.
2012 Clos Triguedina AOC Cahors, Jean-Luc Baldès – €29.95 – Slight blue cheese note, fruity. Lovely.
Pretty much last of my notes now and table 25 which was Portugal and Dow's Port. The lovely Isabel walked me through 8 of them. Everything from the 2013, €16.95 bottle of Tuella, Symington estates port which was pretty good to the 1985, €120 bottle of Dow's vintage port. It was bloody good.
I had a little gin and vodka then and while talking to Pete from Blackwater, we decided that it's juniper berries that I don't really like. I can drink gin in small amounts but for the most part, I don't like it much.